Chocolate Chip Cookie Cake with M&M's
I first made this tasty Chocolate Chip Cookie Cake with M&M's when my youngest begged to take a store-bought version to school for his birthday. Super easy, it's always a hit!
When you want to feed a crowd of picky palates, a chocolate chip cookie-inspired dessert pleases the masses! And this cookie cake is even simpler to prepare than cookies as all you need to do is make the dough and press it into a pizza pan!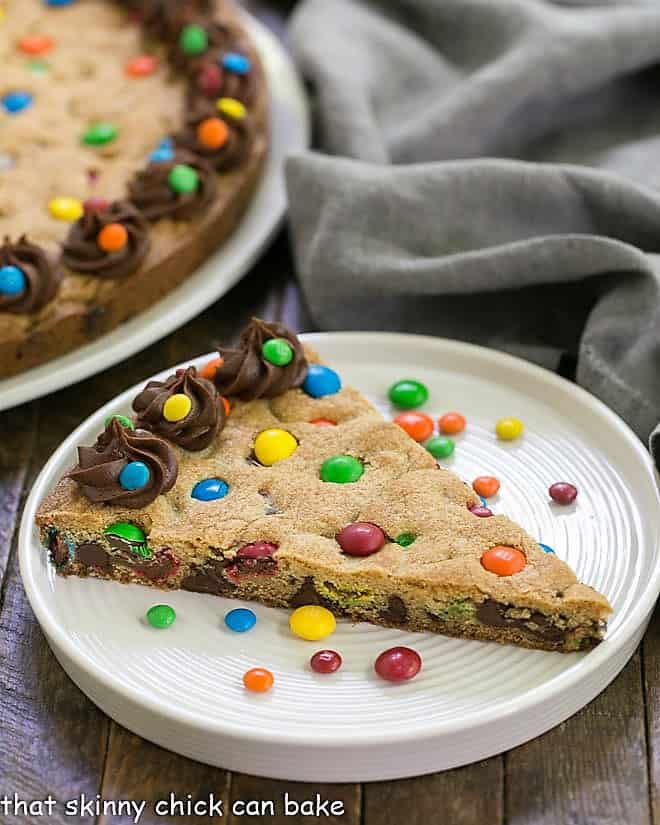 Why You Must Make

If you are a frequent visitor to my blog, you probably know that baking is my passion. So imagine my reaction when my youngest started requesting grocery store cookie cakes for his birthday treats in elementary school! Harrumph. But when I passed the supermarket bakery and spotted the heavily iced cookie cakes in the display case, I realized I was long overdue for making this simple treat at home.
I upped the ante by using chocolate chips and then tossing in some M&M's for color. It certainly garnished high praise for very little work. And then my family members were the ones harrumphing as I told them it had to cool for photos before they could dive in. Turnabout is fair play, isn't it?
Homemade is SO much better than the grocery store version. Real butter is key!
You can adapt it for any occasion just by changing M&M colors.
You may think this is just for kids, but adults love a homemade cookie cake, too.
It's a very easy recipe!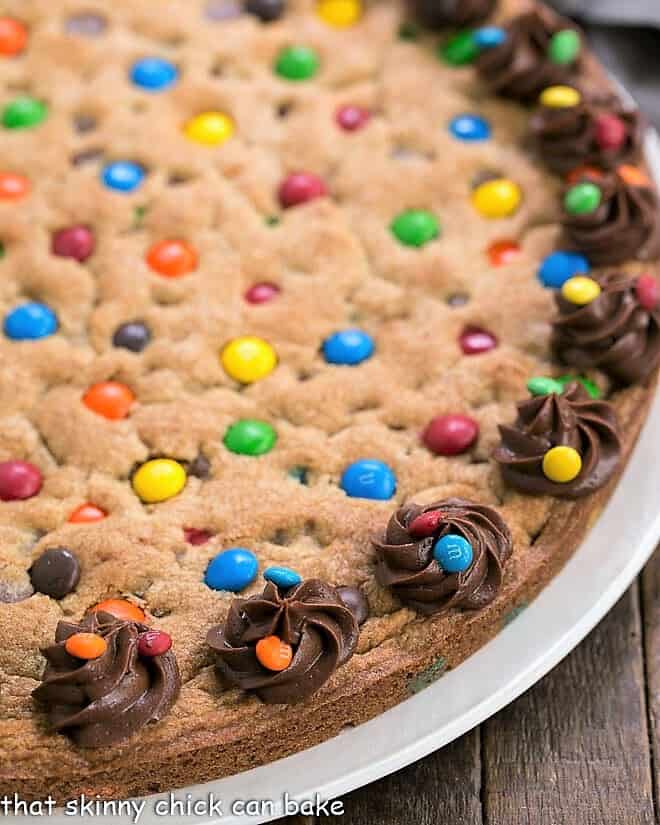 How to Make
This cookie cake can be jazzed up with frosting and garnishes or served simply as a giant cookie. Both ways will garner rave reviews!
As with most cookies, mixing will be much easier with room-temperature butter and eggs. 
Set your eggs and butter out on the counter an hour or two before mixing. To hurry the process along you can set your eggs in a bowl of very warm, not boiling water. Butter can be warmed by setting it in a closed microwave with a cup of very hot water (don't turn on the microwave but instead let the steam from the water soften it). Or you can zap it in the microwave very gently, about 5 seconds, then repeat once if needed.
Mix the dough with a wooden spoon instead of a mixer. This will ensure a chewy cookie by limiting any aeration of the dough.
Use an offset spatula to smooth the top of the dough after spreading it into a well-greased pizza pan.
I used a 14-inch deep-dish pizza pan. Line the bottom with parchment paper which is also greased. This recipe has not been tested with other sizes of pizza pans, but they certainly should work if you adjust the time.
The recipe has you hold back some of the M&M's so you can garnish the cake after it comes out of the oven. It's easy to press them into a warm cake.
If your chocolate chip cookie cake is for a special occasion, you may want to garnish it with frosting.
To make it easy, use a can of store-bought fudge frosting, put it into a piping bag fit with a large star tip, and pipe swirls of frosting around the perimeter of the cooled cake. Garnish the frosting with mini M&M's to make the cookie cake extra festive.
I used multicolored M&M's for this classic cookie cake, but any favorite M&M variety will work well.
Watch for holiday M&M's like red, white, and blue around the 4th, autumn-colored in the fall, Christmas colors in December, and reds, whites, and pinks around Valentine's Day. Using seasonal M&M's make this chocolate chip cookie cake perfect for almost any holiday!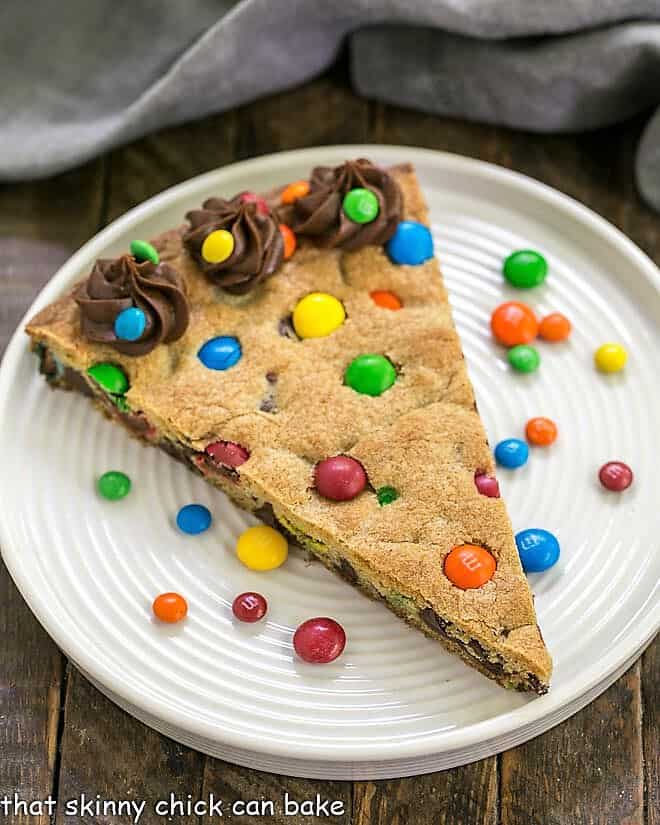 Frequently Asked Questions
Is it a Cookie Cake a Cake?
A cookie cake is just a very large cookie. It's made with cookie dough then pressed into a pizza pan and baked. Since it's cut into wedges instead of formed into individual cookies, the servings look more like slices of cake than regular cookies! Thus, the "cake" moniker.
Should a Cookie Cake Be Refrigerated?
A cookie cake is stable at room temperature for 2-3 days. Storing a cookie cake in the fridge will cause it to dry out due to the low humidity of refrigerated air. If your cookie cake is too big to eat in 3 days, chill part of it for an hour or so to firm up any icing, then wrap well in plastic wrap and freeze. Defrost in the refrigerator before serving. This cookie cake will retain its quality for 3 months in the freezer if stored airtight.
How Can You Garnish a Cookie Cake?
Pipe swirls of frosting around the perimeter, then sprinkle with candies, chocolate chips or sprinkles. You can also serve a slice with a scoop of ice cream and chocolate sauce.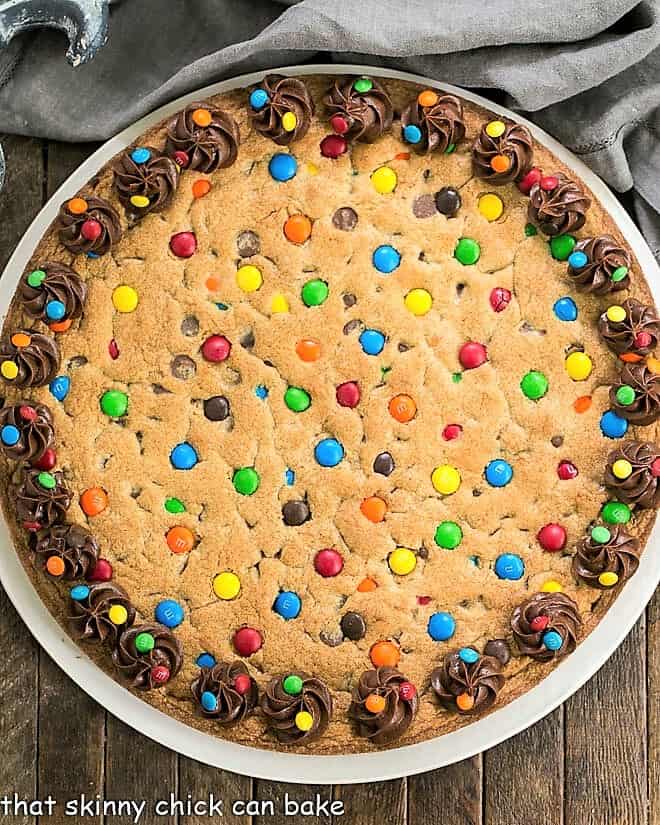 You May Also Like: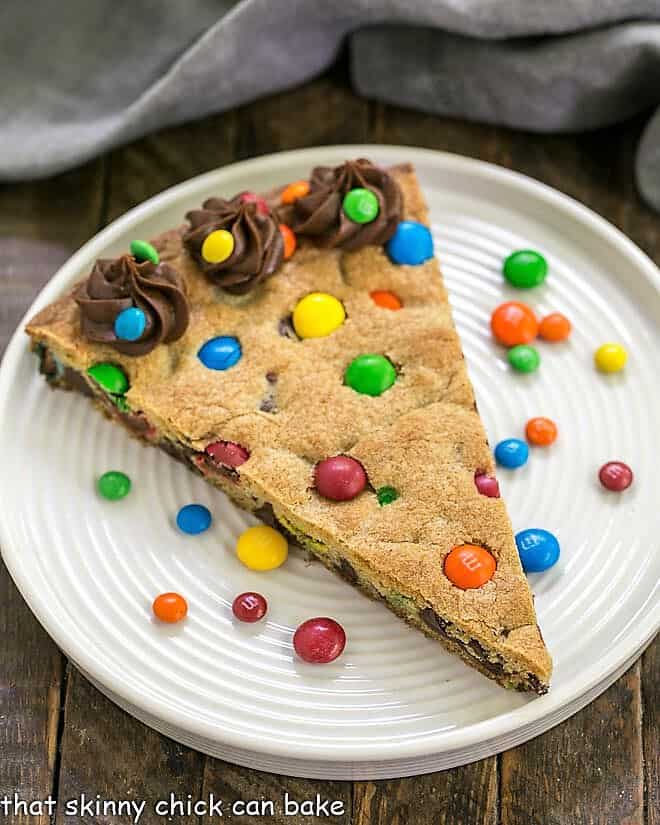 The Recipe:
Chocolate Chip Cookie Cake Recipe
Prep Time 20 minutes
Cook Time 25 minutes
Total Time 45 minutes
Yield 16 servings
A homemade version of the cookie cake found in your grocery store's bakery case!
Ingredients
2 sticks (1 cup) butter, at room temperature
1 cup brown sugar
½ cup sugar
2 eggs
2 teaspoons vanilla
2 cups plus 2 tablespoons flour
1 teaspoon baking soda
½ teaspoon salt
2 cups semi-sweet chocolate discs (may substitute chocolate chips)
1 ¼ cups M & Ms, divided
Instructions
Preheat the oven to 375º. Line a 14-inch deep round pizza pan with parchment and grease the entire pan including the paper. Set aside.
Cream the butter and sugars in a large bowl. Add eggs and mix to combine. Add vanilla and mix well.
Add dry ingredients, and stir till incorporated.
Mix in chocolate discs and ½ cup M&Ms, reserving ¾ cup to garnish the top.
Spread dough evenly in the prepared pan.
Use remaining M&Ms to decorate the top of the cookie cake.
Bake for 20-25 minutes.
Cool and remove from pan if desired. Slice and serve.
Notes
Recipe inspired by Emeril Lagasse.
May use homemade or a can of chocolate frosting to pipe swirls around the perimeter of the cake to garnish. Add mini M&Ms to the chocolate swirls if desired.
Recommended Products
As an Amazon Associate and member of other affiliate programs, I earn from qualifying purchases.
Nutrition Information:
Yield:
16
Serving Size:
1 slice
Amount Per Serving:
Calories: 266
Total Fat: 11g
Saturated Fat: 6g
Trans Fat: 0g
Unsaturated Fat: 4g
Cholesterol: 26mg
Sodium: 169mg
Carbohydrates: 44g
Fiber: 2g
Sugar: 40g
Protein: 3g
Note: This post may contain affiliate links; view
my Disclosure Policy
for details. I earn a small percentage from any purchase you make by clicking on these links at no extra cost to you.