Chocolate Brownie Tart
A Chocolate Brownie Tart is no more difficult than a traditional brownie recipe, but certainly more elegant! Serve with a scoop of vanilla ice cream and some fudge sauce to up the presentation even more!
This Brownie Pie is sweet and fudgy, just how my family prefers their brownies. But cutting brownies into wedges instead of squares kicks them up a few notches!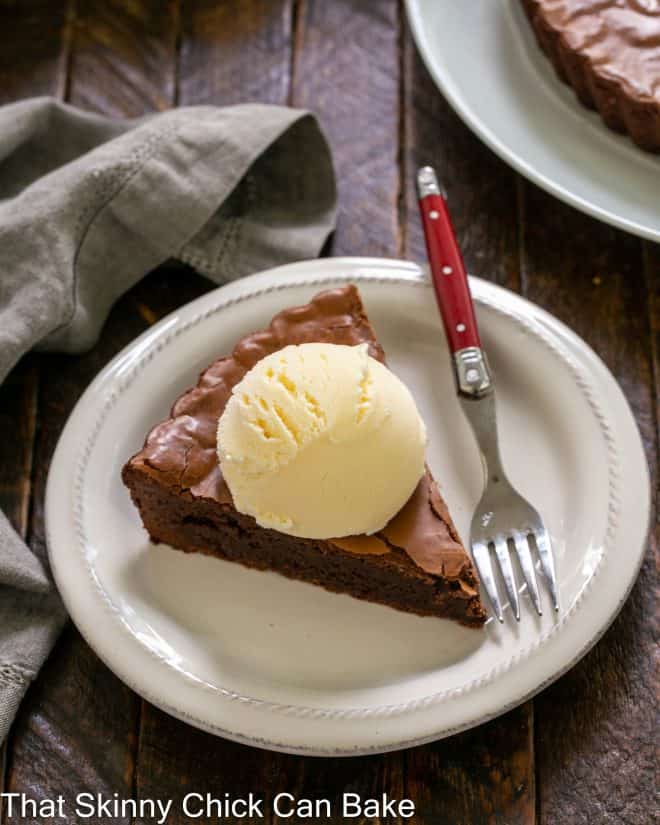 Why You Must Make
If you love fudgy brownies, you'll go nuts for this tart!
This is one of the easiest desserts you'll ever make.
Each serving looks like a slice of pie, but there's no crust to make, just a simple brownie batter!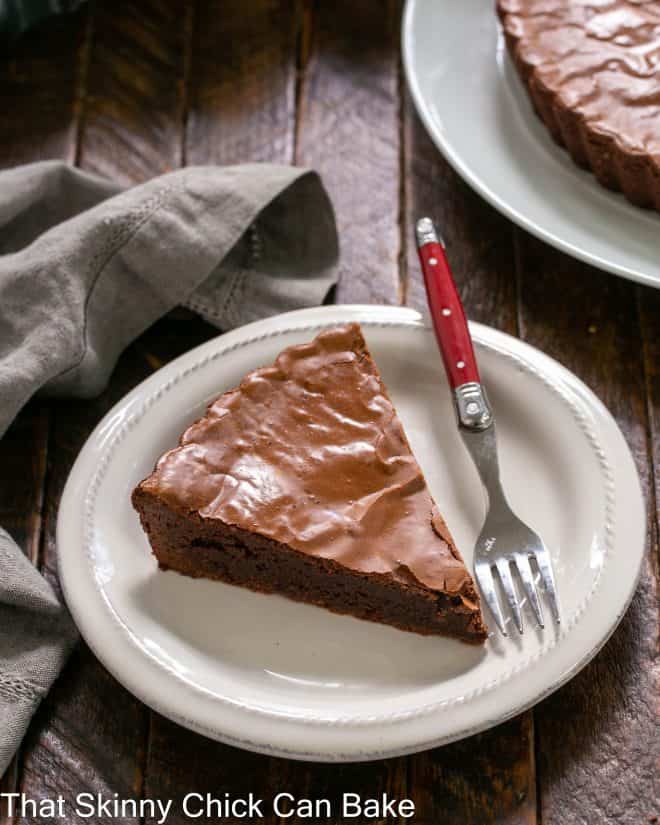 How to Make a Chocolate Brownie Tart
This chocolate brownie tart is as easy as pie, err, tart…chocolate chips were melted with butter and added to the other brownie ingredients. Using an Ina Garten recipe for inspiration, I skipped the nuts, and accidentally skipped the addition of another cup of chocolate chips that were to be included in the batter before baking….but do not fear, these were still wonderful.
Prepare the pan and preheat the oven.
Microwave the chocolate chips and butter and let cool.
Beat together the eggs, sugar, coffee, and vanilla.
Mix in the dry ingredients until just combined. Do not use a mixer, but instead mix with a wooden spoon or rubber spatula.
Scrape into the pan and smooth the top.
Bake as directed.
Make the chocolate sauce if desired and serve with ice cream and fudge sauce.
A quick chocolate sauce of more chips, cream, and vanilla can be served over a scoop of vanilla ice cream right on top of a nice wedge of this decadent tart. I took this chocolate brownie tart some vanilla ice cream and the chocolate sauce to some friends who invited us to dinner.
We had a wonderful dinner and they were all crazy about this dessert. In fact, the hostess went back for seconds! This chocolate brownie tart is a must-try recipe for all you chocoholics.
Recipe Tips:
PRO-Tip: Have your eggs at room temperature for easy incorporation into the batter.
PRO-Tip: Check the expiration date on your baking powder. Unlike baking soda, it's likely to expire while sitting in your pantry. To check if it's active, put a spoonful into some very hot water. If it's active, it will bubble vigorously. If it doesn't, purchase a new can.
PRO-Tip: Once you add the flour, mix just until combined. It's best not to use a mixer as the beaters may incorporate air into the batter which can make cakier brownies as well as over-activating the gluten.
Make sure to use pure vanilla extract. Read the label to make sure.
PRO-Tip: Be sure to add the instant coffee to the batter. The flavor of the coffee will enhance the flavor of chocolate without imparting a coffee taste to the brownies.
The chocolate in both the brownies and fudge sauce comes from chocolate chips. Feel free to use chopped semi-sweet chocolate instead, but it's pretty darn tasty as is.
Note that it is inevitable that the top of the tart will crack. Don't sweat it. Once you top the slices with ice cream, no one will ever know! Especially when they are busy swooning!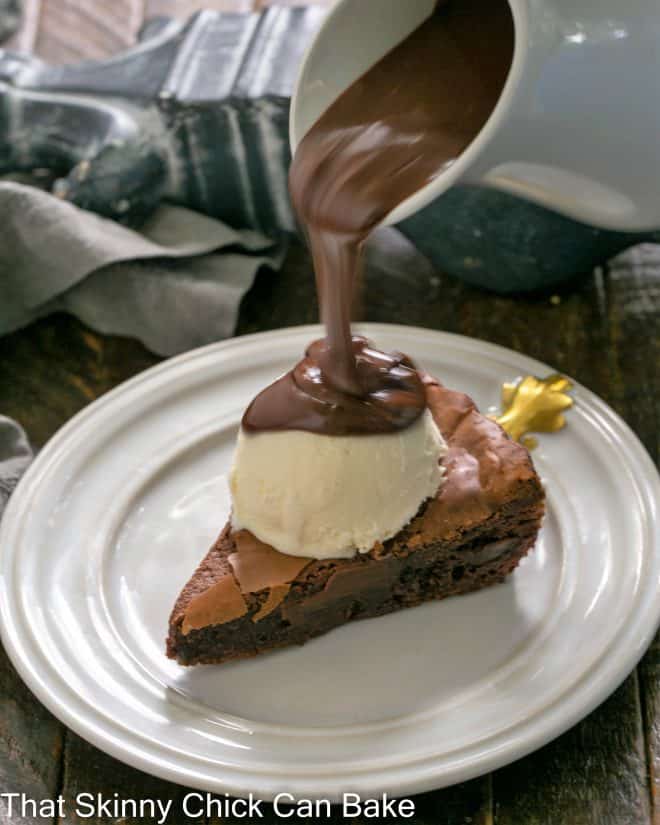 Ingredient Notes:
Butter – It's OK to use salted butter.
Chocolate Chips – I use Ghirardelli brand. For better quality chocolate, Ghirardelli semisweet chocolate bars work well.
Eggs – Large eggs are standard in all my recipes.
Sugar – White, Granulated
Instant Coffee – Keep some on hand for baking.
Vanilla Extract – Make sure the label says "Real Vanilla Extract."
Baking Powder – Make sure it's still active. See above for how to test it if it's near its expiration date.
Salt – I prefer table salt for baking as its finer grains disperse better into the batter. If you only have kosher salt, slightly more.
Whipping Cream – Should be 36% Butterfat.
Frequently Asked Questions
What's the Difference Between a Pie and a Tart?
A tart is made in a round shallow pan that often has a removable bottom. There is no top crust. Tart crusts can be baked, then filled or filled, then baked. Plus there are crustless tarts which are made in a tart pan. Tarts, like pies, can be sweet or savory and are made in a variety of sizes.
What Makes Brownies Moist?
The addition of eggs and oil (or melted butter) helps keep brownies moist since both contribute fat to the batter. The higher fat-to-flour ratio is what makes these brownies more fudgy than cakey. Not overbaking also helps keep brownies moist.
What is the Difference Between Fudgy and Cakey Brownies?
Cakey brownies have a lighter, airy texture which is similar to cake. Fudgy brownies are dense, moist, and even gooey depending on the recipe. Their texture is more similar to fudge.
You May Also Like:
This post may contain affiliate links which won't change your price but will share some commission.
The Recipe:
Chocolate Brownie Tart Recipe
Prep Time 30 minutes
Cook Time 40 minutes
Additional Time 1 hour
Total Time 2 hours 10 minutes
Yield 12
A fudgy brownie tart served in wedges with ice cream and fudge sauce!
Ingredients
Brownie:
6 tablespoons butter
2 cups semisweet chocolate chips
3 eggs (at room temperature)
1 cup sugar
1 teaspoon instant coffee granules
1 teaspoon vanilla
1/2 cup flour
1/4 teaspoon baking powder
1/4 teaspoon salt
Chocolate Sauce:
1 cup whipping cream
1 cup semisweet chocolate chips
1/2 teaspoon vanilla
Instructions
In the microwave, melt the chocolate chips and butter, stopping and stirring at 30-second increments till melted and smooth. Set aside to cool.
Preheat the oven to 350º. Grease and flour 9-inch tart pan with removable bottom (I used Baker's Joy spray). Set aside.
Beat eggs, sugar, coffee, and vanilla with a mixer for about 3 minutes, till lighter in color and well blended. Add cooled chocolate and mix till combined.
Add flour, baking powder, and salt and stir till just combined.
Scrape the batter into the prepared pan and smooth the top.
Bake for 35-40 minutes, till the center is puffed. The top will crack. Cool completely then remove from pan to serving plate. Serve with ice cream, whipped cream or ice cream, and chocolate sauce.
To make the chocolate sauce, melt the cream and chocolate chips together in the microwave, stopping and stirring at 30-second increments till melted and smooth. Add vanilla.
Let cool at room temperature till thickens slightly.
Notes
You may also use 12 ounces of chopped semisweet chocolate instead of chocolate chips.
Make sure your baking powder is not expired.
Aadapted from Ina Garten.
Recommended Products
As an Amazon Associate and member of other affiliate programs, I earn from qualifying purchases.
Nutrition Information:
Yield:
12
Serving Size:
1
Amount Per Serving:
Calories: 431
Total Fat: 27g
Saturated Fat: 16g
Trans Fat: 0g
Unsaturated Fat: 9g
Cholesterol: 84mg
Sodium: 128mg
Carbohydrates: 49g
Fiber: 3g
Sugar: 41g
Protein: 5g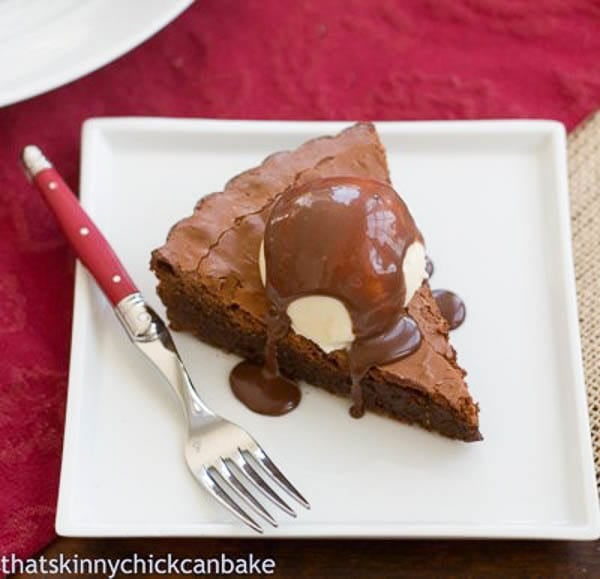 Note: This post may contain affiliate links; view
my Disclosure Policy
for details. I earn a small percentage from any purchase you make by clicking on these links at no extra cost to you.