I shared this  healthy, hearty and delicious Chili Blanca on our local CBS station during a segment on "preparing for the storm." We were talking snow, but sometimes a storm hits in another form, like breast cancer. 
Chili Blanca for Amee
Today, I'm guest posting for Amee, blogger and friend over at Amee's Savory Dish. Amee is a healthy food blogger, healthy eater and a fitness coach as well as a wife and mom to two school-aged children. So you can imagine her shock when she was diagnosed with breast cancer. It can happen to anyone! I'm helping her out today by sharing this chicken and white bean chili AKA Chili Blanca while Amee recovers from surgery. To read more about Amee's story, check out her blog post about her diagnosis. And pop over to see my recipe. I know I speak for Amee when I encourage all women to get their mammograms. Early diagnosis is key! (Note: Amee's blog post is not live yet. I'll share the direct link once it is!).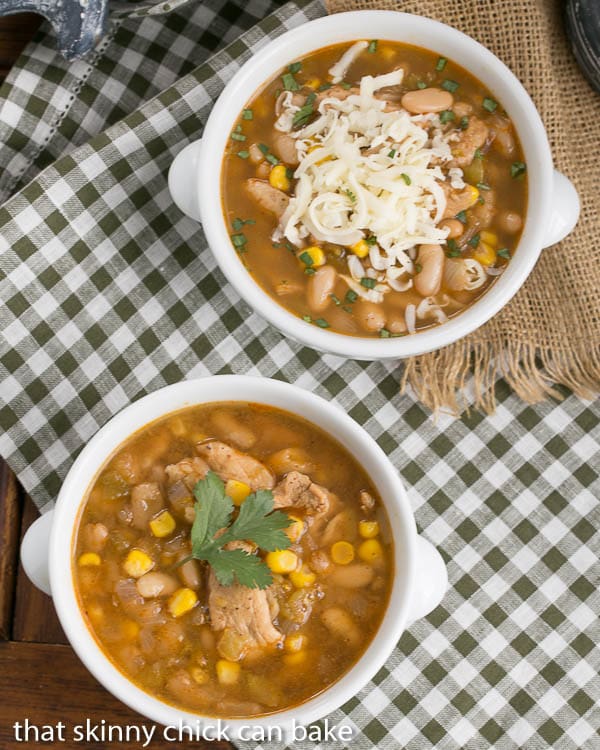 Healthy and Flavorful
I go back and forth with whether traditional beef chili or chicken chili is my favorite. It's too close to call. This Chili Blanca is full of both chunks of chicken and loads of beans for an extra boost of protein. Plus lots of veggies and spices for a most incredible entree. I followed the recipe Gaea, one of the sponsors of my TV appearance, supplied except for replacing the water with chicken broth for more depth of flavor. Feel free to add some diced red bell pepper for a spot of color or even some jalapenos if you want more heat. This recipe is just the framework. Tweak it to make it your own. If you like it spicy, you may want to serve it with some sour cream to tame the fire. I loved topping my bowl with shredded cheese and a dusting of minced cilantro. Please head on over to Amee's Savory Dish and check out the recipe and offer your support. This cancer diagnosis has rocked her world and prayers and good thoughts for her and her family are needed.