Easy Chicken Stir Fry
This Asian-inspired Chicken, Broccoli, and Bell Pepper Stir Fry is a quick, flavorful weekday supper! Your family will love every bite!
This Easy Chicken Stir Fry can be adapted to whatever you have in your fridge and can be on the table in about 30 minutes. Can't beat that!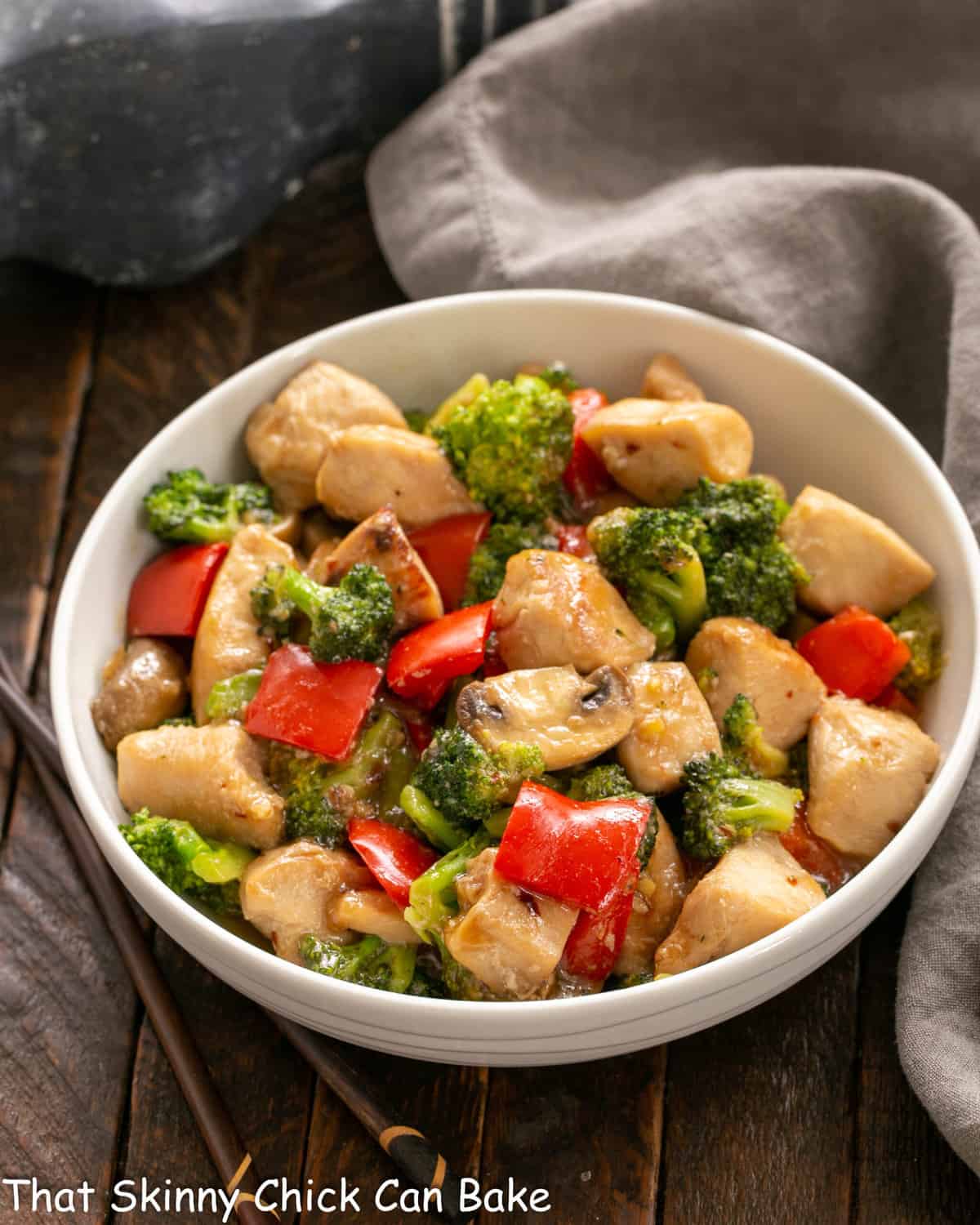 Why You Must Make
The meat marinates while you chop the garlic, ginger, and veggies; and in about 30 minutes, the meal is ready.
The stir-fry sauce has a delicious depth of flavor with garlic, ginger, sesame oil, soy sauce, and sherry. Nothing too hard to procure.
Once you master how to make a stir fry, it's easy to shake this up with beef or pork and your favorite vegetables!
I had chicken in the freezer, some broccoli plus one tired-looking red bell pepper in the fridge, and plenty of Asian marinade ingredients in the pantry. This chicken, broccoli, and bell pepper stir fry was on the table in no time. Just right for a weekday supper.
Ingredient Notes
Kitchen Staples – Sugar, Fresh Garlic, Soy Sauce, Cornstarch, Vegetable Oil, Salt
Boneless Skinless Chicken – May use pork, beef, shrimp, etc. instead.
Produce – Scallions, Fresh Ginger, Red Bell Pepper, Broccoli Florets
Dry Sherry – Alcohol is a flavor enhancer. Most of the alcohol will evaporate as the dish cooks.
Toasted Sesame Oil – Find this with the Asian foods on the grocery store shelves.
Oyster Sauce – Find with the Asian foods.
Red Chili Flakes/Crushed Red Pepper Flakes – Adjust to your palate.
Steamed Rice – to serve.
How to Make
Marinate the chicken while you prep the other ingredients. Add oil to the skillet and heat. Add peppers, broccoli, mushrooms, garlic, ginger, water, and season with salt and pepper. Cook, stirring frequently, and remove vegetables to a plate when broccoli is tender.
Add more oil to the skillet and brown the chicken sprinkled with chili flakes.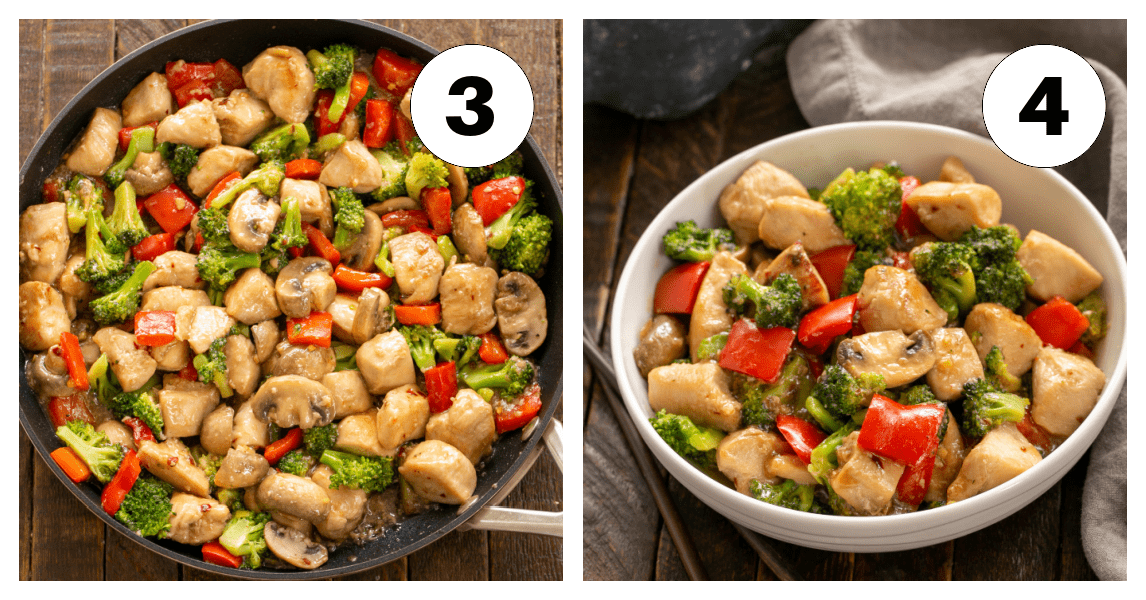 Add the oyster sauce and return the vegetables to the pan. Add the cornstarch slurry to thicken the juices.
Thin the sauce with water if needed. Check for seasonings and add salt and pepper if needed. Serve over rice.
Expert Tips
Use a wok or another pan with a large surface area.
Use an oil that can withstand high heat like peanut or canola oil, not olive oil.
Marinate your meat/protein for at least 15 minutes before adding it to the stir fry.
Cut your vegetables in similar sizes so they are done at the same time.
Cook over high heat.
Cook the hardest vegetables first, then add the more tender vegetables. If using Napa cabbage, that should be added last.
Since this is a stir fry, stir frequently.
Frequently Asked Questions
What is a Stir Fry?
It's any dish made by quickly frying small pieces of food in a large pan over high heat while constantly stirring. This technique has Asian roots and results in a dish that still has crisp, vibrant vegetables, minimal fat, and a flavorful sauce.
Many stir-fries are made in woks, which are specialized pans, but other pans with large surface areas work well, too.
What are the 3 Main Components of a Stir Fry?
First, there should be a source of protein like chicken, beef, pork, seafood, or tofu. Vegetables and aromatics such as broccoli, peppers plus garlic, scallions, and fresh ginger in this recipe are the second component of a stir fry. And to complete the trio, there must be a flavorful sauce.
In What Order Should You Add Ingredients to a Stir Fry?
Often the garlic, ginger, etc. are added to the oil to impart flavor, then removed so they don't burn. Then add the vegetables from the hardest to the softest, giving ingredients like carrots and broccoli a longer time to cook. Remove the vegetables and cook the protein. Add the vegetables back in, then, finally, add the sauce. A thickener like cornstarch (mixed in water) is often added at the end to make a thick, glossy sauce.
What is a Cornstarch Slurry?
Cornstarch is a powder and to make it easier to incorporate into the stir fry, it's whisked with water creating a "slurry." This makes it much easier to disperse and coat the ingredients. This mixture must be brought to a boil to thicken.
What Can You Add to a Stir Fry to Make It Taste Better?
Make sure to add aromatics like onions, scallions, garlic, and or ginger. Include flavorful ingredients in your sauce like toasted sesame oil, soy sauce, oyster sauce, hoisin sauce, and sherry. Alcohol is a good flavor enhancer, like salt, so adding sherry is another tip.
What Should You Serve with Stir Fry?
All you need is rice to soak up the sauce. It can be white rice or even brown rice. Other grains will work well, too, like quinoa or farro, but rice is the most traditional.
You May Also Like:
The Recipe:
Chicken, Broccoli and Bell Pepper Stir Fry
Prep Time 15 minutes
Cook Time 15 minutes
Total Time 30 minutes
Yield 4 servings
An easy weeknight stir fry the whole family will love!
Ingredients
1 pound boneless, skinless chicken breasts, in thin slices or cubes
3 scallions (whites only) sliced on an angle
2 cloves garlic, minced
1 -inch piece of peeled fresh ginger, minced
1 tablespoon soy sauce
2 tablespoons sugar
1 tablespoon, plus 1 teaspoon of cornstarch
1 ¼ teaspoons salt
1 tablespoon dry sherry
1 tablespoon toasted sesame oil
About ⅓ cup of water
3 tablespoons vegetable oil
1 red bell pepper, cut into strips
3-4 cups small broccoli florets
8 ounces mushrooms, sliced or cut in half, optional
½ teaspoon red chili flakes, optional
1-2 tablespoons oyster sauce
Steamed rice, to serve
Instructions
In a medium bowl, toss the chicken with the scallion whites, about half the garlic and ginger, the soy sauce, sugar, 1 teaspoon of the cornstarch, 1 teaspoon of the salt, the sherry, and the sesame oil. Marinate at room temperature for 15 minutes.
Mix the remaining cornstarch with ⅓ cup water.
Heat a large nonstick skillet or wok over high heat.
Add 1 tablespoon of the oil and heat.
Add the bell pepper, broccoli florets, and the remaining garlic, ginger, 2 tablespoons of water, and season with 1/4 teaspoon salt, and pepper.
Stir-fry until the broccoli is bright green but is tender enough to be pierced easily with a knife. Transfer to a plate.
Reheat the skillet again, and then add 2 more tablespoons of oil.
Add the chicken and chili flakes, if using. Stir-fry until the chicken loses its raw color and gets a little brown, about 3 minutes.
Add the oyster sauce, return the broccoli to the pan, and toss to heat through.
Stir in the reserved cornstarch mixture and bring to a boil to thicken.
Add more water if need to thin the sauce if desired.
Taste and season with salt and pepper, if needed.
Serve with rice.
Notes
Inspired from the Food Network
Recommended Products
As an Amazon Associate and member of other affiliate programs, I earn from qualifying purchases.
Nutrition Information:
Yield:
4
Serving Size:
1
Amount Per Serving:
Calories: 572
Total Fat: 20g
Saturated Fat: 3g
Trans Fat: 0g
Unsaturated Fat: 15g
Cholesterol: 96mg
Sodium: 1427mg
Carbohydrates: 56g
Fiber: 16g
Sugar: 14g
Protein: 48g
Note: This post may contain affiliate links; view
my Disclosure Policy
for details. I earn a small percentage from any purchase you make by clicking on these links at no extra cost to you.