Caramel Topped Sundaes: Dorie Greenspan's homemade vanilla ice cream and caramel sauce made one delightfully delicious dessert!
Caramel Topped Sundaes
My daughter, Katie, has about 5 dishes she will cook. Not a huge repertoire for the child of a foodie. Basically, they're enough to get her by when she doesn't like what I've cooked for dinner.
So I flipped through Around My French Table for a recipe to teach her how to make. She is one picky girl, so to pique her interest, I knew I'd have to start with the dessert section.
When we travel, and the food is not to her liking, she'll often supplement with ice cream or gelato. A little protein, a little dairy…and no complaints. It's not worth having a huffy offspring on holiday.
So when I spied Dorie's recipe for vanilla ice cream, I thought it would be a wonderful basic dessert recipe for her to learn. Then we both spotted the warm caramel sauce on the adjoining page…and it became a two-for-one deal. We did a lot of licking of spoons and bowls as we created these Caramel Topped Sundaes made with Dorie's Vanilla Bean Ice Cream.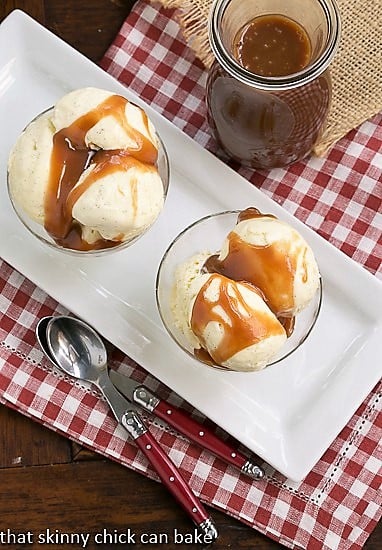 Food Revolution Day
Once again, the French Friday crew is celebrating Food Revolution Day. One of their ambassadors is our very own Mardi of Eat.Live.Travel.Write who offers this advice on what you can do to help kids get excited about food: "This year, for Food Revolution Day, Jamie Oliver wants everyone to "get kids excited about food". If you're interested in participating in your own community, the website offers many ideas for getting involved. Find a local Ambassador to see what's already being organized in your area! Cook a meal from scratch with your kids using one of the official recipes. There are so many different ways to get involved!"
It was great to have a sous chef at my side to help stir, measure, taste test. We both loved the luscious caramel sauce and the creamy vanilla bean flecked ice cream. Thanks to Jamie for giving me the push to get Katie in the kitchen!
Check the Food Revolution Day website to see how you can get involved.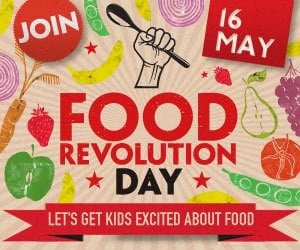 Dorie's Vanilla Ice Cream recipe can be seen HERE. I used two vanilla beans as called for in the cookbook.
I have shared a slightly tweaked recipe for Dorie's Warm Caramel Sauce before, so I'll repeat it again here with my modifications noted.
Print
Caramel Sauce
Homemade vanilla ice cream and caramel sauce pair together for a dreamy dessert
Author:
Prep Time: 10 minutes
Cook Time: 15 minutes
Total Time: 25 minutes
Yield: 1 cup 1x
Category: Dessert, Sauces
Method: Mixing, Churning, Freezing
Cuisine: French, American
Ingredients
1 cup sugar
2 tablespoons water (Dorie uses 3 tablespoons)
1 tablespoon light corn syrup
3/4 cup heavy cream, at room temperature
1 tablespoon butter
1 teaspoon vanilla (Dorie does not add vanilla)
Instructions
Put the sugar, water and corn syrup into a medium saucepan. Cook over medium high heat, swirling the pan, but not stirring until the caramel turns an amber color.
Lower the heat and carefully add cream and butter…standing away from pan to avoid splattering. When bubbling subsides, stir sauce till smooth. Add vanilla. Pour into heatproof jar (I use a Pyrex measuring cup). Cool to warm or room temperature before serving.
Notes
Slightly adapted from Dorie Greenspan's Around My French Table
Note: This post may contain affiliate links; view
my Disclosure Policy
for details. I earn a small percentage from any purchase you make by clicking on these links at no extra cost to you.