Blueberry Orange Muffins
No matter who spends the night at our house, I always treat our guests to some homemade treat for breakfast. These Blueberry Orange Muffins transformed my muffin-hating brother-in-law into a fan!
This Orange Muffin Recipe is tender, moist, and flavored with a double dose of orange, both juice, and zest. Plus it's speckled with sweet, juicy blueberries!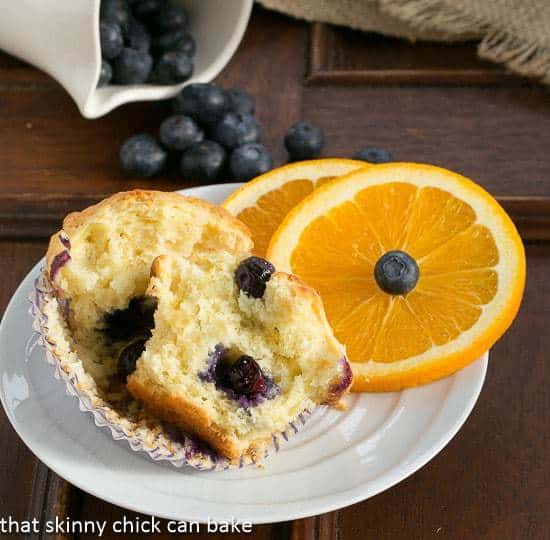 Why You Must Bake Orange Muffins
They're sweet, tender, and flavorful!
You can add any fresh berry or even dried cranberries or chocolate!
They're quick to make for a warm from the oven breakfast treat.
My brother-in-law was in town for a couple of days. As I pulled these blueberry orange muffins out of the oven, their sweet aroma had already tempted him.
When I offered him a warm sample, he eagerly bit into the tender cake. "I never thought I liked muffins," he commented, "but these are delicious." I hadn't baked up a batch since these dreamy Sour Cream Blueberry Muffins recipe for my Tuesdays with Dorie group.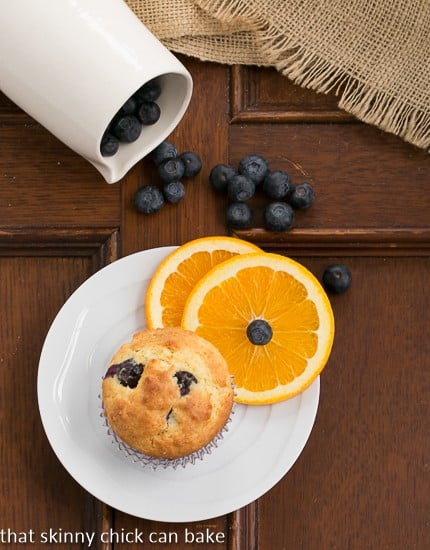 How to Make
That was the ultimate compliment, converting a hater into a lover! His experience with muffins was limited to box mixes and grocery store versions that typically are boosted with artificial flavorings. These beauties were flavored with blueberries, freshly squeezed orange juice and zest. These make a fabulous breakfast treat without causing the cook to break out into a sweat! Here's how:
Preheat the oven to 400º and line your muffin tin with paper muffin cups.
Zest your orange before you juice it. Pour the orange juice into a glass measuring cup and add buttermilk to make a total of 1 cup.
In a large bowl, rub the sugar and orange zest together to release the oils from the peel.
Whisk in the dry ingredients.
Pour the liquid ingredients over the dry ingredients and gently mix with a rubber spatula.
Carefully stir in the blueberries.
Divide the batter evenly among the muffin cups.
Bake for 22 to 25 minutes or until a toothpick inserted comes out clean.
Cool for 5 minutes before removing to a cooling rack
Expert Tips
This is a Dorie Greenspan recipe and included a technique I learned from her earlier this year. Massage together the sugar and orange zest till fragrant, which helped release the aromatic oils in the peel, and infused them directly into the sugar. The citrus flavor was perfect with the sweet berries.
Like in my Strawberry Buttermilk Scones, the buttermilk in the recipe provides both moisture and tenderness.
The combination of sugar and honey provides the necessary sweetness to enhance the juicy blueberries. These converted my brother-in-law (picky hubby's brother!) to a muffin eater, so you know they taste darn good!
Frequently Asked Questions
How Do You Make Moist Muffins?
Look for a recipe with buttermilk or sour cream. These both add moisture to a recipe. Plus the lactic acid helps curtail the formation of gluten bonds. Do not overbake. Also, once the liquid is added, do not overmix. It is OK if there are a few lumps.
Can Diabetics Eat Orange Muffins?
This recipe contains a lot of simple carbohydrates. Flour, sugar, and honey will all raise blood sugar and generally aren't good for those on a strict diabetic diet. It's best to get advice from a registered dietician or medical doctor about what is best depending on the severity of diabetes.
How to Garnish Orange Muffins?
Adding blueberries provides a pop of color. You can also make a simple icing with powdered sugar and orange juice to drizzle over the top of the cooled muffins.
Make sure to serve them with a slice or wedge of orange and some fresh blueberries.
You May Also Like
Stay in touch through social media @ Instagram, Facebook, and Pinterest. Don't forget to tag me when you try one of my recipes! And if you love the results, please give it a 5-star rating in the recipe card. Note: As an Amazon Associate, I earn from qualifying purchases. Visit my Amazon Store for my favorite products.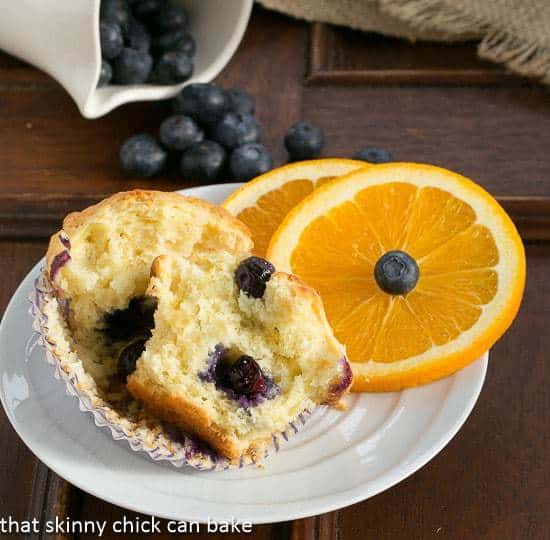 The Recipe:
Blueberry Orange Muffins
Prep Time 20 minutes
Cook Time 25 minutes
Total Time 45 minutes
Yield 12
Tender, citrus kissed and chock full of juicy blueberries
Ingredients
Recipe adapted from Dorie Greenspan
Grated zest and juice of 1 orange
About 3/4 cup buttermilk
2 large eggs
3 tablespoons honey
1 stick (8 tablespoons) butter, melted and cooled
1/3 cup sugar
2 cups flour
2-1/2 teaspoons baking powder*
1/4 teaspoon baking soda
1/4 teaspoon salt
1 cup fresh blueberries (Driscoll's preferred)
Instructions
Preheat the oven to 400º. Line 12 cup muffin tin with paper muffin cups or grease well.
Juice your orange and remove any seeds if necessary. Pour the orange juice into a large glass measuring cup or a bowl and pour in enough buttermilk to make 1 cup.
Whisk in the eggs, honey, and melted butter.
In a large bowl, rub the sugar and orange zest together with your fingertips until the sugar is moist.
Whisk in the flour, baking powder, baking soda, and salt. Pour the liquid ingredients over the dry ingredients and gently but quickly stir to blend with a rubber spatula.
Do not overmix; a few lumps are OK. Carefully stir in the blueberries. Divide the batter evenly among the muffin cups.
Bake for 22 to 25 minutes till browned and a toothpick inserted in muffin comes out clean.
Place pan on a cooling rack and cool for 5 minutes before carefully removing muffins.
Notes
Recipe adapted from Dorie Greenspan.

* Make sure your baking powder has not expired. Check the date on the container as it often loses its potency before you use it all. To test, put a spoonful into some hot water. It will bubble vigorously if it's still active.
Recommended Products
As an Amazon Associate and member of other affiliate programs, I earn from qualifying purchases.
Nutrition Information:
Yield:
12
Serving Size:
1 muffin
Amount Per Serving:
Calories: 155
Total Fat: 1g
Saturated Fat: 0g
Trans Fat: 0g
Unsaturated Fat: 1g
Cholesterol: 32mg
Sodium: 205mg
Carbohydrates: 33g
Fiber: 1g
Sugar: 15g
Protein: 4g
Note: This post may contain affiliate links; view
my Disclosure Policy
for details. I earn a small percentage from any purchase you make by clicking on these links at no extra cost to you.