Beef Ragu Pasta
This flavorful and totally irresistible Beef Ragu Pasta is pure comfort food! It's a cousin to boeuf bourguignon & perfect for a chilly night.
This Pot Roast Pasta is slow-cooked in the oven with a beef chuck roast, tomatoes, red wine, and aromatics to make a flavorful pasta sauce.
Why You Must Make
When fall arrives, this hearty, filling, and delicious pasta makes the perfect dinner.
It's an excellent reason to crank up the oven and let the beef, veggies, and wine commingle and magically transform into a flavorful pasta topping.
It's a family-friendly recipe, but tasty enough for a casual dinner with friends.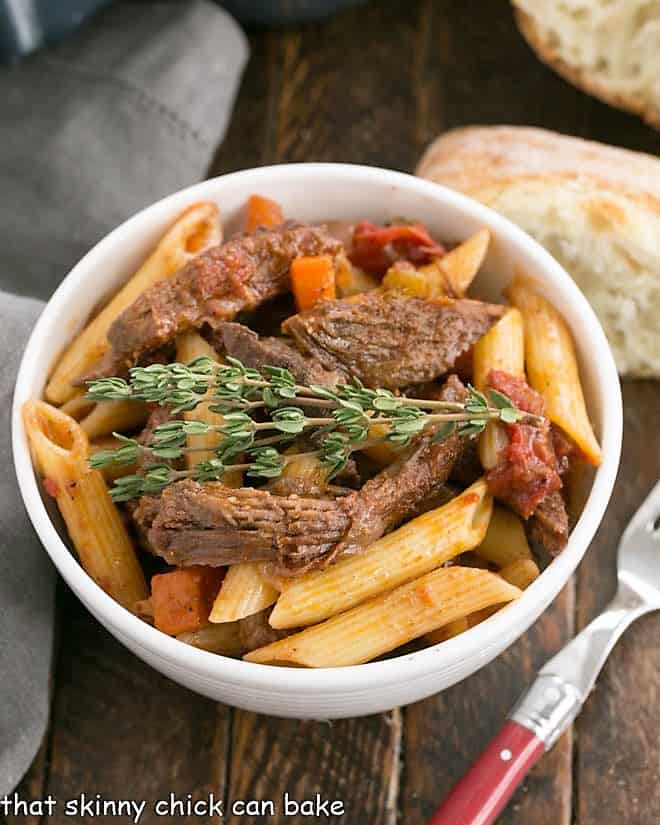 Expert Tips
We are huge fans of Julia Child's classic Boeuf Bourguignon or beef burgundy. This recipe utilizes many of the same ingredients, though without mushrooms or bacon. Also, instead of simmering beef chunks in a wine sauce, the chuck or pot roast is shredded and then combined with the penne pasta, veggies, and juices. This entree has become a family favorite and I put it on the menu at least once in the dead of winter.
Use a chuck roast as it's more flavorful than a leaner cut of beef. Just make sure to remove some of the excess fat when prepping and/or shredding the meat.
Wine, like salt, is a flavor enhancer. It adds a lovely depth of flavor to the sauce. If you're concerned about feeding this pasta to children due to the alcohol, most will evaporate during the cooking process.
Cook your pasta in well-salted water; it should taste like the sea. This allows the salt to infuse into the pasta, which enhances the flavor of your noodles.
Cook your pasta al dente, or "to the tooth." It should offer a bit of resistance when biting, not overly soft. Often, the pasta box will offer the timing for al dente pasta.
Buy an extra chuck roast and make my Easy Pot Roast Recipe, too.
Frequently Asked Questions
What is Ragu?
According to Food and Wine Maganize, ragu is an Italian meat-based sauce often served with pasta. The typical ingredients are meat and vegetables with the occasional tomatoes.

Ragout, on the other hand, is a French slow-cooked stew, not a sauce, that can be made with meat, fish, and/or vegetables. Bolognese sauce is another example of a ragu.
What Cuts of Beef are Best for Pot Roast?
Pot roasts are typically made with less expensive, less tender cuts of beef. When they are slowly braised, the tough connective tissue is broken down, making for tender and flavorful beef.

Chuck roasts work best as they slice and shred easily, but round roasts and brisket are also great choices and will both slice nicely after slow cooking.
Why Do You Add Wine?
Wine, just like salt, is a flavor enhancer. With the long cooking time, much of the alcohol will cook off/evaporate and leave a wonderful depth of flavor.
You May Also Like: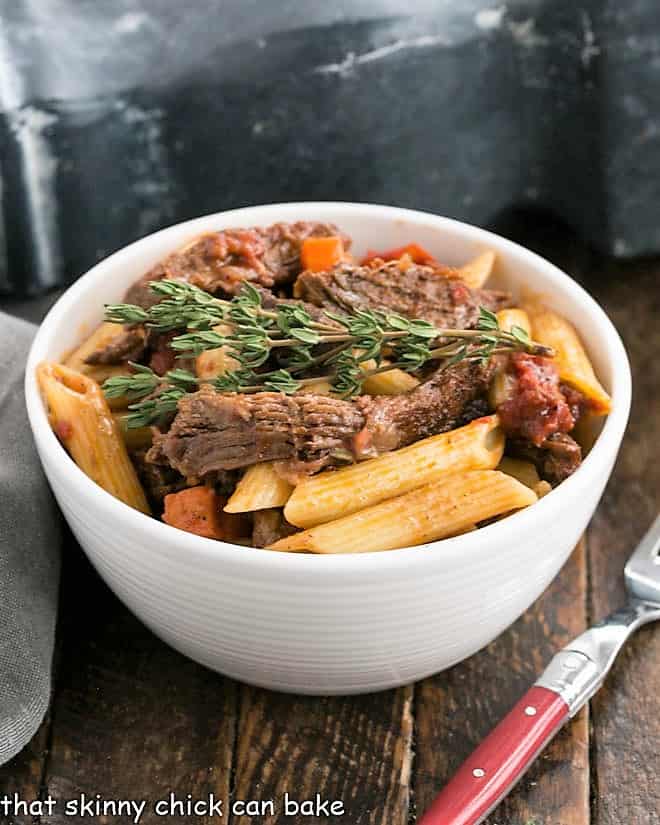 The Recipe:
Beef Ragu Recipe with Pasta
Prep Time 30 minutes
Cook Time 2 hours
Total Time 2 hours 30 minutes
Yield 6 servings
A twist on the classic boeuf bourguignon in a pasta dish! Pure comfort.
Ingredients
3 tablespoons olive oil
3-pound chuck roast
1 ½ cups chopped onions
1 cup chopped carrots
1 cup chopped celery
4 cloves garlic, slivered
1 teaspoon minced garlic
1 cup beef broth
1 can (28 ounces) plum tomatoes, drained and roughly chopped
3 tablespoons tomato paste
1 teaspoon freshly ground black pepper
½ teaspoon salt, plus more to taste
½ teaspoon dried thyme
½ cup burgundy or another favorite red wine
1 pound penne pasta
Instructions
Preheat the oven to 350º.
Heat the oil in a large pot with a lid (like a Dutch oven) over medium heat. Season beef with salt and pepper. Brown roast on all sides. Remove the meat from the pan, and set it aside.
Add the onions, carrots, celery, and slivered garlic and sauté until the vegetables are soft, about 10 minutes. Remove the vegetables and set them aside.
Return the pot roast to the pot and add the stock. Heat the meat and stock till the stock comes to a boil. Put the lid on the pot and place it in the oven for an hour.
Remove the pot from the oven, and slice the meat into ¼-inch slices. Return the meat to the pot.
Add the tomatoes, tomato paste, minced garlic, pepper, salt, thyme, bay leaf, red wine, and reserved vegetables. Bring to a boil, transfer pot to the oven, and bake, covered, until the meat is very tender, about 1 ½ hours.
Remove the meat and bay leaf from the pot, and allow to cool slightly. Shred the meat (removing any fatty areas) and return it to the pot. Mix to combine.
Bring a large pot of water to a boil. Add a generous amount of salt, 1+ tablespoon. Add the pasta, and cook at a rolling boil until just tender. Drain. Toss the sauce with the hot pasta.
Notes
Adapted from The New Basics Cookbook.
Wine, like salt, is a flavor enhancer. Most of the alcohol will evaporate throughout the cooking time.
Recommended Products
As an Amazon Associate and member of other affiliate programs, I earn from qualifying purchases.
Nutrition Information:
Yield:
6
Serving Size:
1
Amount Per Serving:
Calories: 774
Total Fat: 43g
Saturated Fat: 16g
Trans Fat: 2g
Unsaturated Fat: 24g
Cholesterol: 188mg
Sodium: 550mg
Carbohydrates: 36g
Fiber: 4g
Sugar: 6g
Protein: 63g
Note: This post may contain affiliate links; view
my Disclosure Policy
for details. I earn a small percentage from any purchase you make by clicking on these links at no extra cost to you.