Banana Cream Cheesecake Pie
This dreamy, decadent Banana Cream Cheesecake Pie pairs my love of cheesecake with the hubby's love of banana cream pie. A win-win for sure!!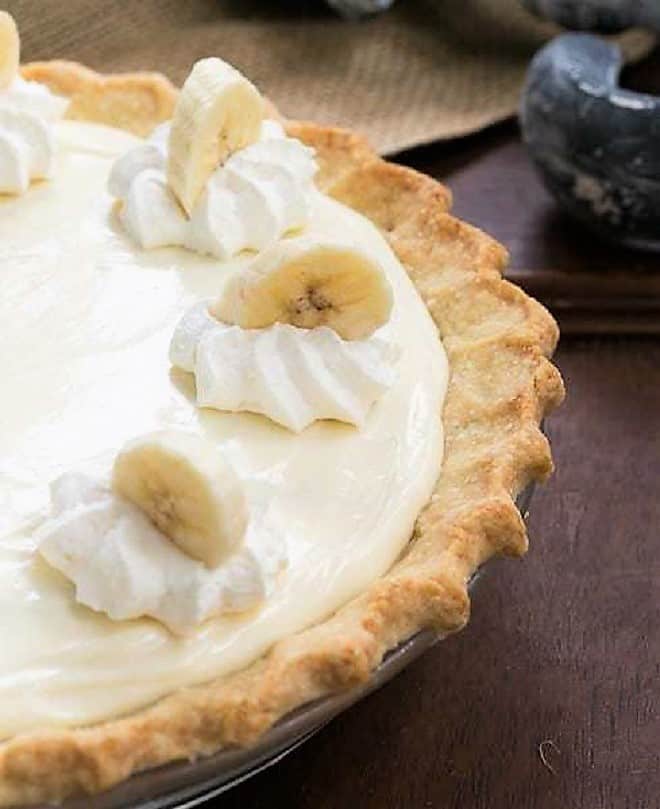 Banana Cream Cheesecake Pie
I have joined forces with some of my talented blogger friends to share a progressive dinner with you each month. Barb, of Creative Culinary, gets credit for dreaming up this concept and rounding up this terrific group.
The theme for our July party is Summer in the South, and our hostess is the lovely Lana of Never Enough Thyme. Being a northerner and all, I wasn't exactly sure what I'd cook up for this gathering, but as expected, I gravitated towards desserts.
I remembered one of my Sunday Supper friends, Serena, had recently shared a recipe for an exquisite Banana Pudding Cheesecake. I knew the picky husband would gobble it up. I had my plan!
Banana Pudding Pie
When I think of Southern cuisine, my mind goes to comfort food. And what's more comforting than a cream pie topped with sweetened whipped cream?
Maybe one where the custard is made even richer by the addition of cream cheese? Yup, that's exactly what I did. This Banana Cream Cheesecake Pie is a delightful combination of your classic banana cream pie and cheesecake.
It was definitely hubby approved. My oldest stopped by for dinner and took a couple of slices home with him. I'm certain he and his housemate licked their plates clean. You will, too!
Notes: I used Martha Stewart's pâte brisée recipe for this pie crust. I always add a tablespoon of sugar to my pastry recipe when baking it up for a dessert. Another trick when making cream pies is to spread a layer of melted chocolate, white chocolate in this case, over the bottom of the crust. It prevents the crust from getting soggy when you can't eat the whole pie in one sitting.
Summer in the South
Have you ever participated in a progressive dinner? Every New Year's Eve, my parents would bundle up and trudge through the snowy streets with a group of their dearest friends. They'd start with appetizers and cocktails at one home, and the merriment would continue as they went from house to house, eating course after course, and finally, at midnight, toasting in the new year with dessert and a champagne toast. Instead of having an actual dinner, we are inviting you to join us by going from blog to blog to experience a virtual "Summer in the South" themed progressive dinner.
Thanks again to Lana, of Never Enough Thyme, for hosting our first virtual event! I will be hosting next month when our theme will be "Summer Barbecue." Just in time to inspire your Labor Day menu. We will be sharing on the last Tuesday of every month. Please check out all the magnificent dishes brought to the table today:
Main Course
Never Enough Thyme – Creole Style Smothered Chicken
Appetizers
The Heritage Cook – Cajun Shrimp Skewers
Stetted – Fried Green Tomatoes with Smoked Tomato Basil Aioli
Salads
Miss in the Kitchen – Creamy Coleslaw
Life's a Feast – Shrimp, Grilled Peach and Quinoa Salad
Soup
Spiceroots – Maque Choux Soup
Sides
Creative Culinary – Bacon and Caramelized Onion Creamed Corn
Pastry Chef Online – Spicy Succotash
Desserts
Barbara Bakes – Key Lime Pound Cake
That Skinny Chick Can Bake – Banana Cream Cheesecake Pie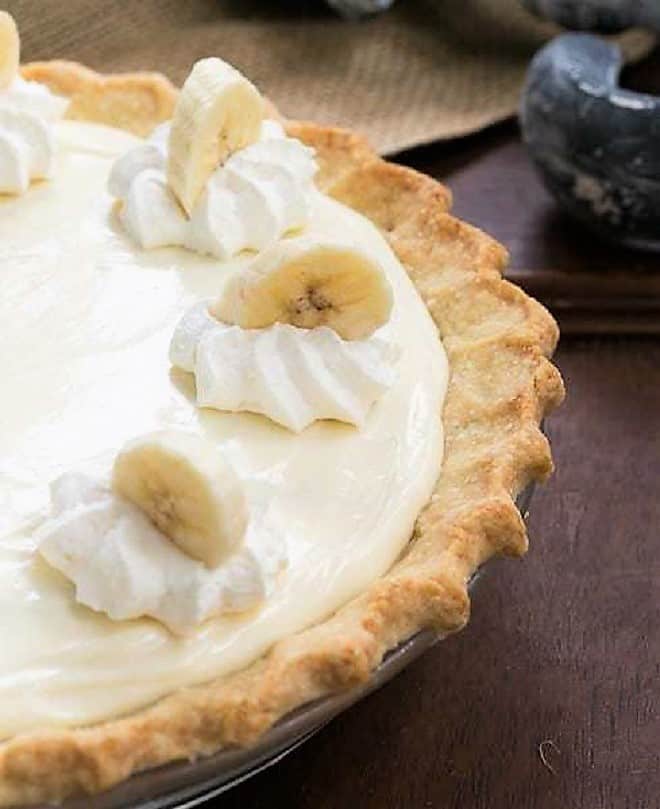 The Recipe:
Banana Cream Cheesecake Pie Recipe
Prep Time 30 minutes
Cook Time 20 minutes
Total Time 50 minutes
Yield 8
This dreamy, decadent Banana Cream Cheesecake Pie is a delicious pairing of a classic pie and cheesecake!
Ingredients
1 pastry crust, homemade (I used Martha Stewart's pate brisee with a touch of sugar added) or store-bought, baked and cooled
1 ounce white chocolate, finely chopped
2/3 cup sugar
1/3 cup flour
1 pinch salt
2 cups milk
3 egg yolks, whisked
1 1/2 teaspoons vanilla
16 ounces cream cheese, at room temperature
4 bananas, sliced
Sweetened whipped cream and banana slices, to serve
Instructions
In a microwave safe bowl, carefully melt the white chocolate by microwaving for 30 seconds, stirring and repeating at 15 second intervals, if needed, till smooth. Brush melted chocolate over bottom of cooled pie crust and let rest till chocolate is firm.
In a large saucepan whisk together sugar with flour and salt until well combined. Slowly whisk in milk until smooth.
Bring mixture to a simmer while stirring over medium heat. Cook until mixture is thickened.
Whisk egg yolks in a medium bowl. While whisking constantly, slowly drizzle a bit of the hot liquid into the yolks to temper them. Slowly add the rest of the mixture to the eggs, whisking continuously till all the liquid is added.
Add egg yolk mixture back to the pan and continue to stir while returning mixture to a simmer. Cook until thickened like to the consistency of pudding. Remove from heat and stir in vanilla.
Beat cream cheese until very smooth. Add custard to cream cheese and mix until well combined.
Cover bottom of crust with half of custard mixture. Add sliced bananas and cover with remaining custard.
Refrigerate cheesecake until cold or overnight.
Serve with whipped cream and garnish with sliced bananas.
Notes
Total time does not include chilling time.
Adapted from Serena Bakes Simply from Scratch.
Nutrition Information:
Yield:
8
Serving Size:
1 slice
Amount Per Serving:
Calories: 460
Total Fat: 26g
Saturated Fat: 15g
Trans Fat: 0g
Unsaturated Fat: 8g
Cholesterol: 138mg
Sodium: 270mg
Carbohydrates: 50g
Fiber: 2g
Sugar: 32g
Protein: 9g
Note: This post may contain affiliate links; view
my Disclosure Policy
for details. I earn a small percentage from any purchase you make by clicking on these links at no extra cost to you.