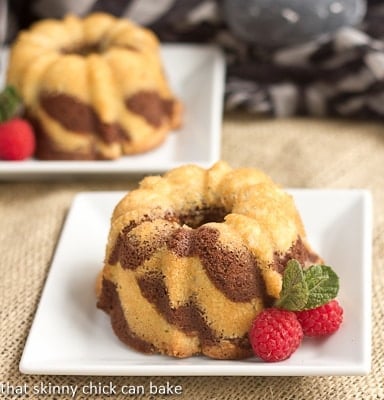 I've experienced a whirlwind of emotions this week. From extreme sadness as my  father-in-law lost his battle with lung cancer…to elation (and exhaustion) as we kicked of the 52nd Annual Decorators' Show House with an incredible opening night celebration. It was tough to tell my daughter that she had lost her first grandparent…and to watch her sweet, young heart grieve. That same night, at the historic Schnull-Rauch house,  there were nothing but rave reviews for the "Taste" event where approximately 350 guests were dazzled by generous gourmet "samples" from 20 high-end restaurants. Baking helps relax me…and the stress level was high. I had made numerous attempts on a zebra cake for a past Sunday Supper post…but I ended up titling the blog a Marbled Horse Cake when my cake baked up sans stripes. So for this week's Sunday Supper theme of New Cooking Adventures, I didn't exactly try a new recipe…but made one last try for actual stripes on my Zebra Cake.
A lovely blog follower hinted that my batter might not be thick enough. Then I saw that others had success using cake mixes. Harrumph.  How hard could this be??? I went with a tried and true pound cake recipe, knowing that the batter would  be thick…and what do you know…I had stripes. This cake would have been even more zebra-like if I had used a round cake pan…but at least it's not a horse! Whew. I sent these mini-Bundts off with Tom to share with his roommates…and, apparently, they were a hit.
Thank you ALL for your kind thoughts and prayers regarding the death of my father-in-law. Your words of sympathy literally brought me to tears…I am blessed by your thoughtfulness. xoxo
A huge thanks to Conni, of
The Food Army Wife
, for hosting us this week. Here are the marvelous "New Cooking Adventures" from all my sweet Sunday Supper friends:
New Expeditions (Sides, Starters & Staples)
Grand Quests (Main Dishes)
Escapades (Sweet Treats & Spirited Companions)
Join the #SundaySupper conversation on twitter each Sunday.  Our chat starts at 7:00 pm ET…just follow the #SundaySupper hashtag and include it in your tweets to join in the chat. Check out our #SundaySupper Pinterest board for more excellent recipes and photos.