Eating a warm, chewy slice of Whole Wheat Challah with a pat of cold butter is truly a delightful experience. The taste is nothing short of sensational.
Whole Wheat Challah
Challah wasn't commonplace in Ames, Iowa, where I grew up. But long after I left home, my mom, inspired by her neighbor, started baking these lovely braided loaves. One month, during his cardiology fellowship, Bill was assigned a rotation in nearby Des Moines. We were living only 30 miles from my childhood home. We'd often visit my parents' house to give them their grandson fix and enjoy some home cooking. This is where I fell for her rich, slightly sweet, eggy bread. But I've been depriving myself for years as I try to avoid white flour. Not attempting a whole wheat version was a huge oversight! I printed out a few recipes and gave it a go.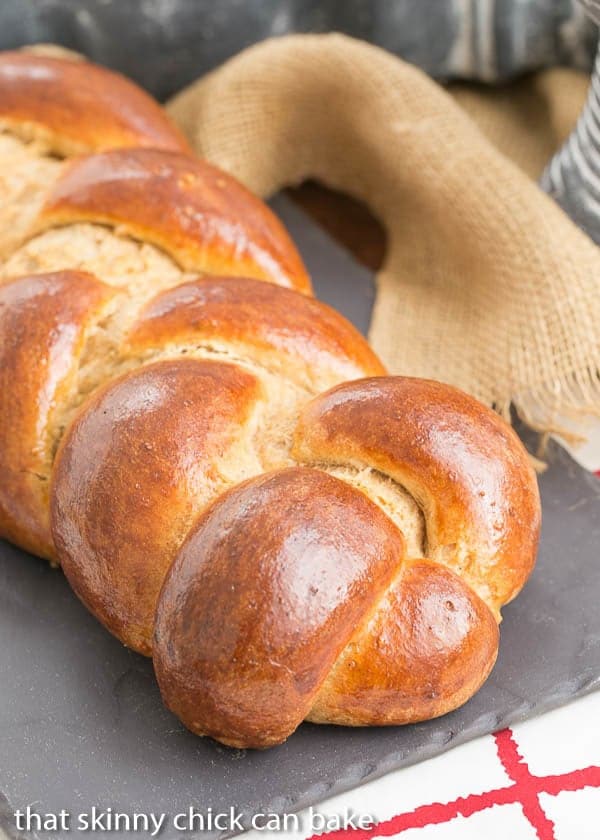 A Plaited Loaf
I'm a huge fan of braided breads. Once you get the rhythm of plaiting, it's a cinch. Growing up with 3 sisters in the age of long straight hair, I had plenty of practice. I have made a six stranded challah, but there's no way I could explain that without leaving you utterly confused. I stick to 3 stranded versions for the most part. Start by rolling out 3 ropes, a little thicker in the middles and tapered at the ends. Lay them out on a lightly floured surface lined up side by side with one set of small ends facing you. Pinch the strands together at the end furthest from you. Take the strand on the far right and cross it over the middle strand. Next, take the far left strand and cross it over the new middle strand. Then go back to the far right strand and cross it over the middle strand, and so on. When the loaf is fully braided,  pinch together the loose strands at the end closest to you and tuck them under. Repinch the ends at the far end and tuck those under the loaf as well. Your loaf is now ready for the final proofing. If you need visual cues, there are plenty of youtube videos to help with the process. Tori Avery has these terrific braiding tutorials on her blog.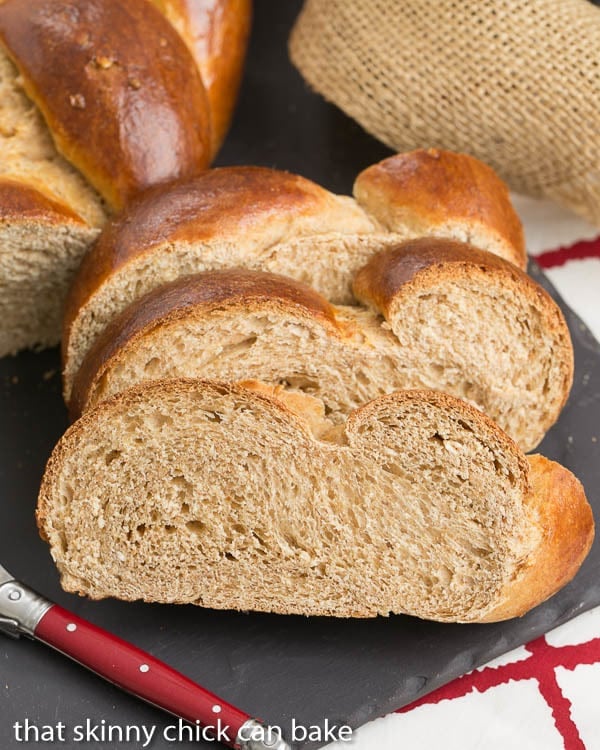 Double Glazing
Challah is known for its glossy surface. This is a result of brushing the loaves with an egg wash before baking. A trick I learned from Dorie Greenspan is to glaze once before baking, then reglaze after the loaf has baked for about 15 minutes. Since the loaves expand and rise from the heat of the oven, a second application of the glaze will ensure full coverage. I hope this recipe will inspire you to try a braided loaf!