With buttermilk for a tender crumb, molasses for sweetness and cornmeal for some extra body, this Whole Wheat Molasses Quick Bread was top notch!

Whole Wheat Molasses Quick Bread
Dark, dense soda breads remind me of our time in Ireland. The kids were enthralled with touring castles with murder holes over their gated entries, whereas I was obsessed with the yummy breads offered at every pub. This whole wheat molasses quick bread was moist, flavorful and irresistible, and just as amazing as those Irish loaves. My friend, Susan, brought this bread to one of our holiday celebrations. I immediately asked for the recipe. Don't you love having such talented foodie friends? I'm lucky to be surrounded by them, and they're always generous with their recipes.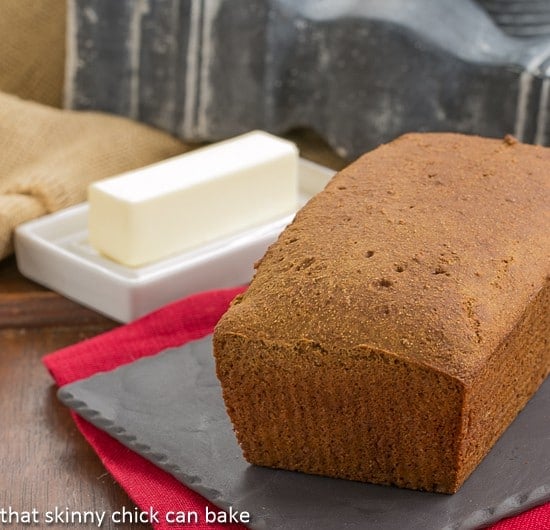 Keep it Simple
This Mark Bittman recipe came together in just a few minutes. Buttermilk added the essential moisture and the molasses provided a sweetness in addition to some depth of flavor. Baked for a full hour, you will love a thick slice smeared with butter.  We adored this bread. Sweeter than the typical Irish soda breads, hearty and satisfying, it's one I'll make again and again. And it was surprisingly moist the next day, not that there was much left. But I made sure it didn't get a chance to go stale. Now scurry on into your kitchen and make this wonderful Whole Wheat Molasses Quick Bread!

Whole Wheat and Molasses Quick Bread
A hearty quick bread flavored with molasses
Recipe type:
Bread, Quick Bread
Ingredients
1⅔ cups buttermilk
2½ cups whole wheat flour
½ cup cornmeal
1 teaspoon salt
1 teaspoon baking soda
½ cup molasses
Instructions
Preheat the oven to 325. Butter a large loaf pan.
Mix together the dry ingredients. Stir the molasses into the buttermilk. Add the liquids to the dry ingredients, mixing just till combined, then pour into the loaf pan. Bake until firm and a toothpick inserted into the middle of the loaf comes out clean, about 1 hour. Cool on a rack for about 15 minutes before removing from the pan.
Notes
Adapted from Mark Bittman.
Twelve Loaves
We enjoyed a delicious month of December with our Holiday Breads.  January #TwelveLoaves is here and we are going to Keep it Simple! We all chose a recipe that is not overly complicated, whether in technique or ingredients. Here are the links to the simple recipes shared by my friends today:
If you'd like to add your bread to the collection with the Linky Tool this month, here's what you need to do:
1. When you post your Twelve Loaves bread on your blog, make sure that you mention the Twelve Loaves challenge in your blog post; this helps us to get more members as well as share everyone's posts. Please make sure that your bread is inspired by the theme!
2. Please link your post to the linky tool at the bottom of my blog. It must be a bread baked to the Twelve Loaves theme.
3. Have your Twelve Loaves bread that you baked this January 1, 2014, and posted on your blog by January 31, 2014.
#TwelveLoaves is a monthly bread baking party created by Lora from Cake Duchess. #TwelveLoaves runs so smoothly thanks to the help of the lovely Paula from Vintage Kitchen Notes and Renee from Magnolia Days.