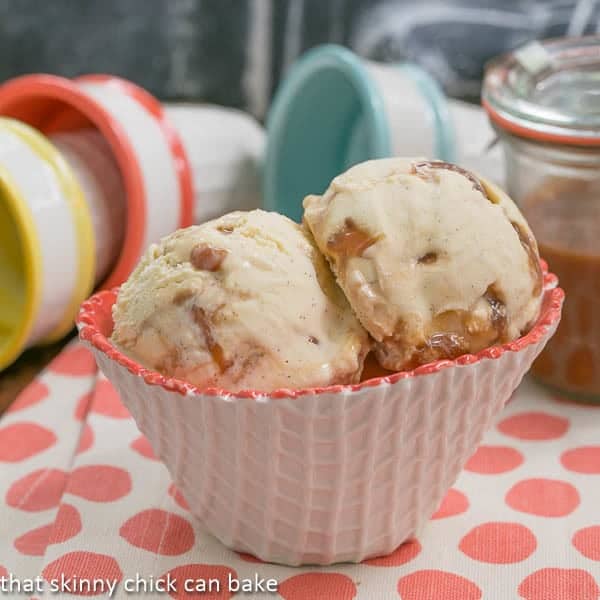 A Salute to Caramel
When we were in Denver last month, Katie and Bill would take a stroll down to the hotel lobby each evening to get their single servings of Häagen-Dazs ice cream. Bill, no surprise here, purchased chocolate and Katie found delight in their dulce de leche. It was Katie's selection that inspired me to make a rich vanilla caramel swirl ice cream. I knew she and I would be thrilled if I was successful with my recipe testing.
Welcome to day 2 of Ice Cream Week 2014! This year the event is hosted by Kim of Cravings of a Lunatic and Susan of  The Girl in the Little Red Kitchen. We have teamed up with 25 amazing bloggers to bring you ice cream treats all week long. It's going to be an epic week full of frozen treats!
Our sponsors for the event have provided us with some great prizes. A huge thanks to Cake Boss, Anolon, Microplane, WÜSTHOF, Page Street Publishing and Quarry Spoon. Kim of Cravings of a Lunatic and Susan of The Girl in the Little Red Kitchen have tossed in a bonus prize of a Cuisinart Ice Cream Maker because they think everyone should own one!
A Rich, Decadent Show Stopper
Katie and I were swooning over each bite of this silky ice cream with the sweet, gooey streams of caramel throughout. Bill took a cursory bite, but was anxiously awaiting the Oreo ice cream I made for Thursday's post. Chocolate trumps caramel in his book. But that's just fine. Katie and I didn't want to share! And my fears that the caramel might turn to a rock-like consistency when frozen were unfounded. Whew.

More Terrific Ice Cream Recipes from my Blogger Friends:
Stop by to visit all our Day 2 Ice Cream Week Participants:
The Giveaway:
Here's what is up for grabs, One Winner Takes All:
a Rafflecopter giveaway
Disclaimer: I did not receive any product for participating in this event. The #IceCreamWeek Giveaway is open to U.S. and Canada residents only. ONE winner will receive ALL the prizes listed. Giveaway ends at midnight on August 31st.