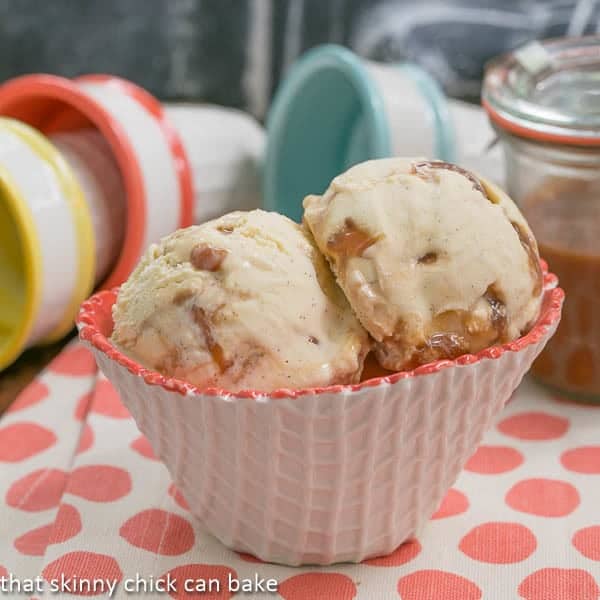 A Salute to Caramel
When we were in Denver last month, Katie and Bill would take a stroll down to the hotel lobby each evening to get their single servings of Häagen-Dazs ice cream. Bill, no surprise here, purchased chocolate and Katie found delight in their dulce de leche. It was Katie's selection that inspired me to make a rich vanilla caramel swirl ice cream. I knew she and I would be thrilled if I was successful with my recipe testing.
Welcome to day 2 of Ice Cream Week 2014! This year the event is hosted by Kim of Cravings of a Lunatic and Susan of  The Girl in the Little Red Kitchen. We have teamed up with 25 amazing bloggers to bring you ice cream treats all week long. It's going to be an epic week full of frozen treats!
Our sponsors for the event have provided us with some great prizes. A huge thanks to Cake Boss, Anolon, Microplane, WÜSTHOF, Page Street Publishing and Quarry Spoon. Kim of Cravings of a Lunatic and Susan of The Girl in the Little Red Kitchen have tossed in a bonus prize of a Cuisinart Ice Cream Maker because they think everyone should own one!
A Rich, Decadent Show Stopper
Katie and I were swooning over each bite of this silky ice cream with the sweet, gooey streams of caramel throughout. Bill took a cursory bite, but was anxiously awaiting the Oreo ice cream I made for Thursday's post. Chocolate trumps caramel in his book. But that's just fine. Katie and I didn't want to share! And my fears that the caramel might turn to a rock-like consistency when frozen were unfounded. Whew.

Vanilla Caramel Swirl Ice Cream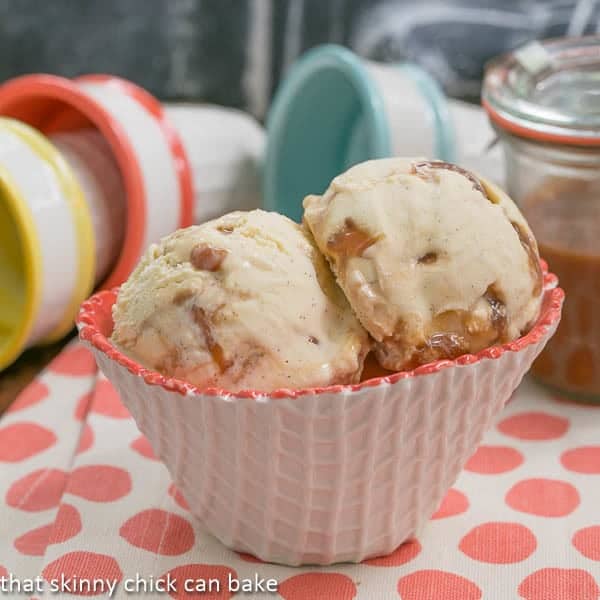 Ingredients
Adapted from Epicurious
5 egg yolks
½ cup packed dark brown sugar, divided
1¾ cup heavy cream
¾ cup whole milk
¼ teaspoon kosher salt
2 teaspoons vanilla bean paste (may use vanilla extract if desired)
For the caramel swirl
¾ cup heavy cream
1 cup granulated sugar
⅛ teaspoon kosher salt
1 teaspoon vanilla
Instructions
In a large Pyrex measuring cup or heatproof bowl, whisk the yolks with ¼ cup of the brown sugar. Set aside.
In a heavy saucepan, stir together the cream, milk, salt, and the remaining ¼ cup of brown sugar and put the pan over medium-high heat. When the mixture starts to simmer, decrease the heat.
Remove about ½ cup of the hot cream mixture while constantly whisking the eggs, slowly drizzle the cream into the egg yolks. Repeat with another ½ cup of hot cream, then pour the egg-cream mixture back into the saucepan, whisking as you pour.
Cook the mixture carefully over medium heat, stirring constantly, until it is thickened, about 1-2 more minutes.
Strain the custard mixture through a fine-mesh strainer into a clean container. Set the container into an ice-water bath (I fill my sink with ice cubes, then adds some water). Stir occasionally, till cool. Remove the container from the ice-water bath, cover with plastic wrap, and refrigerate
for at least 2 hours or overnight.
While the ice cream base cools, make the caramel.
Set the cream by the stove so it's at hand when you need it. Put 2 tablespoons of the sugar in a heavy saucepan over medium high heat. When the sugar is melted around the edges and starts turn golden, stir the mixture gently and add another 2 tablespoons sugar to the pan.
Continue to add the remaining sugar 2 tablespoons at a time, stirring frequently and allowing most of the sugar to melt before you add more. Watch carefully as the sugar darkens, stirring gently to help it melt evenly.
When the bubbling slows down, stir gently in the cream to blend. If you have any hard sugar lumps, just keep burner on low and cook till sugar melts. Stir in salt and vanilla and allow to cool to room temperature.
Put the container you'll use to store the ice cream into the freezer.
When the ice cream is frozen, layer about a third of it into your container. Drizzle 2 tablespoons of caramel on top of ice cream, then repeat again two more times.You will have leftover caramel.tablespoons of the caramel. Use a knife or a chopstick to swirl the caramel. If you prefer a softer ice cream, eat right away or else freeze for about 4 hours before serving.
Yield: 1 quart of ice cream
Total time: 6½ + hours
More Terrific Ice Cream Recipes from my Blogger Friends:
Stop by to visit all our Day 2 Ice Cream Week Participants:
The Giveaway:
Here's what is up for grabs, One Winner Takes All:
a Rafflecopter giveaway
Disclaimer: I did not receive any product for participating in this event. The #IceCreamWeek Giveaway is open to U.S. and Canada residents only. ONE winner will receive ALL the prizes listed. Giveaway ends at midnight on August 31st.