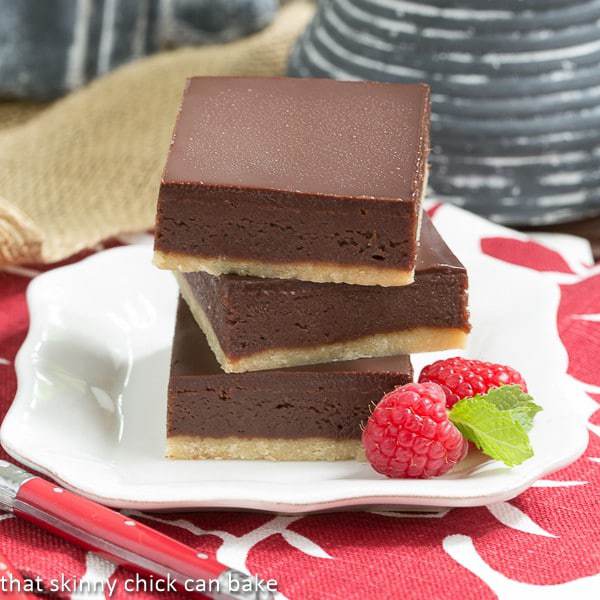 Updated photo in 2014


My delightful (and generous!) neighbor, Sharon, will occasionally leave wonderful treats in our mailbox. We've been blessed with incredibly decadent hot fudge sauce, pumpkin bread with chocolate chips, and these incredible Truffle Brownies. This finishes the trio of baked goods which will accompany us on our road trip to visit the grandparents…and which will also be dessert for a dear friend finishing chemo. Chocolate is good medicine for the soul…
Truffle Brownies…adapted from an old Jewish cookbook via my friend, Sharon
Crust:
2/3 cup brown sugar
2/3 cup butter
1 1/3 cup flour
1 cup finely chopped pecans (optional…I omitted)
Brownie layer:
8 ounces semisweet chocolate, chopped
3/4 cup (1 1/2 sticks) butter
2 teaspoons espresso powder dissolved in 1 teaspoon boiling water (optional…I omitted)
1 1/2 cups sugar
2 teaspoons vanilla
4 eggs
1 cup flour
1/2 teaspoon salt
Glaze:
6 ounces semi-sweet chocolate, chopped
2 tablespoons butter
1/2 cup heavy cream
Preheat oven to 350º. Grease 9 x 13 inch pan.
Cream the brown sugar and butter till light and fluffy. Slowly add flour and mix till blended. Add pecans, if using. Pat into bottom of greased pan. Set aside.
Gently melt chocolate, butter (and espresso, if using) in microwave. Stir till smooth. Let cool slightly before adding sugar and vanilla. Then mix in eggs, one at a time. Stir in flour, and salt until just combined. Pour over crust.
Bake in middle of oven about 25-27 minutes. Remove from oven and immediately place in refrigerator.
Make glaze by gently heating chocolate, cream and butter in microwave till chocolate and butter are melted. Stir till smooth. Cool for about 10 minutes before spreading over brownies. Return to refrigerator. When chilled, cut into bars and serve.

Print