Bill was hankering for a Father's Day pie, so I created this Triple Chocolate Mouse Pie in his honor. With a chocolate crust,  chocolate mousse, and white chocolate mousse, it's a chocolate lover's dream! 
Triple Chocolate Mousse Pie
I finally  got the ol' hubby to give me some good quotes. Just don't tell him that they're being blasted over the Internet! "Wow" was his response when I let him sample the chocolate left on the edges of the springform pan after I released it. Next, wanting a slice sooner than later, he inquired if he could fire up the grill and get dinner going. Mind you, it was 10 AM! And minutes later, he reminded me that it wasn't his fault if I'd need to bury him in a piano crate. I'm not too worried about that either.

A Special Occasion Dessert
This isn't necessarily a difficult recipe, but it does take some time. The cookie crust is pretty basic, just chocolate cookie crumbs and melted butter, pressed into the bottom of the pan and baked. Next, you make one mousse at a time. They both use raw eggs, so to be on the safe side, I recommend pasteurized eggs* to prevent a foodborne illness. Also, when whipping the egg whites, note that they do best at room temperature, so set them out an hour or two before starting the process. And make sure no egg yolk or grease is in or on the mixing bowl or beaters as that will prevent the whites from  becoming white and billowy.

A Rich, Dreamy  Beauty
I made semisweet chocolate curls using the Pioneer Woman's technique as my topping. You can certainly serve ungarnished or top each slice with some beautiful red raspberries. Treat the chocoholics in your life to this exquisite chocolate mousse pie!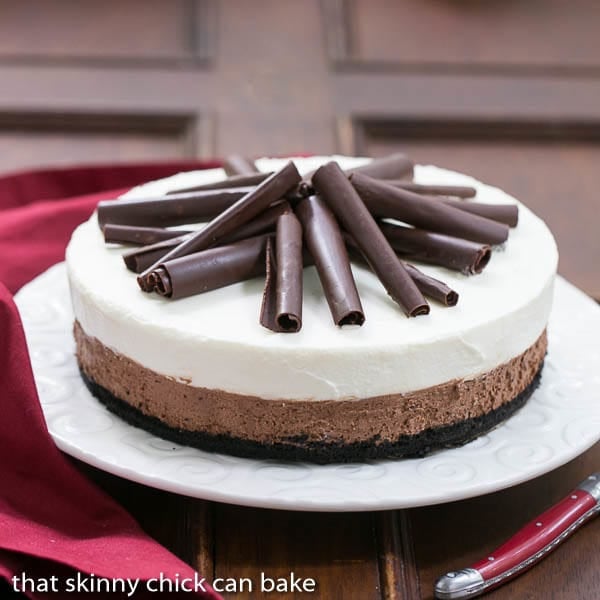 You May Need:
*Note: I highly recommend Davidson's Safest Choice Eggs when any recipe calls for raw or partially cooked eggs. They are pasteurized to prevent any foodborne illnesses, which can be quite serious for children, elderly and the immuno-compromised.
Disclosure:  This recipe was created for an entry in the Davidson's Safest Choice® Eggs Blogger Recipe Contest.
Note: This post may contain affiliate links; view my Disclosure Policy for details.