These Thin Crispy French Fries will rival your favorite fast food version. Pure perfection from your own kitchen.
Making Thin Crispy French Fries at Home
There are four basic steps to this recipe: boiling, frying, freezing and frying again. And just four ingredients. But if you're like me, deep frying anything is a daunting task. But it was a snowy Sunday and my oldest was going to brave his way to our house to join us for dinner. I had an inkling that these would be a hit. So what's a little mess?
Today is the big reveal for March's Blogger CLUE Society! Our theme is potatoes or other starchy comfort foods. Even vodka is included! My assignment was the lovely Azmina of Lawyer Does Lunch. These fries were the result of her quest for the very best French fries—I think she's found them! The recipe comes from Serious Eats and was thoroughly researched by one of their chef contributors, who happens to be an MIT grad. I was also tempted by Azmina's fabulous cornbread, so check that out if you need an accompaniment for your next batch of chili or just have a hankering for cornbread.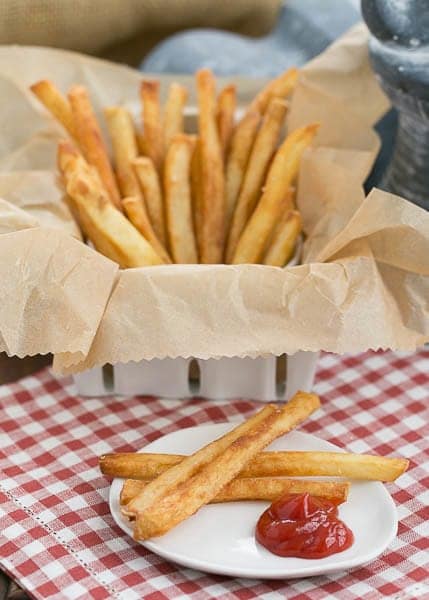 Break Out the Deep Fryer
Or in my case, the Dutch oven and digital thermometer. For the first stage of this recipe, the raw fries were boiled in salted, acidulated water till tender. There's obviously some food science involved, but nothing I learned in nursing school (note MIT degree trumps my BSN). After air drying for a few minutes, the spuds were briefly fried in hot oil before a stint in the freezer. Overnight is recommended, but I only had a few hours. Right before serving, the oil was reheated and the fries cooked to a perfect golden brown.
The Verdict
These were a home run hit! I can usually restrain myself, but I ate my fair share. Their first salty bath infused them with the needed flavor, so just a light dusting of kosher salt finished them off. If you have a hankering for homemade fried potatoes, you must try these thin crispy French fries! Thanks, Azmina!!!

Potato Recipes from my Blogger CLUE friends:
Check out these fabulous potato or starchy recipes from our March participants!