Have you made any New Year's resolutions? I tend to eat a lot more sugar over the holidays, so I've added this adaptable Superfoods Salad to our menu rotation.

Superfoods Salad
When I was returning home from Moab, Utah, this past fall, I had a layover at Denver International Airport. I needed a meal and found a healthy kiosk tucked behind a McDonalds. Their superfoods salad looked intriguing so I ordered it topped with chicken and savored every bite. Kale, quiona, almonds, grapes, and more was topped with a champagne vinaigrette. I just had to make my own version at home.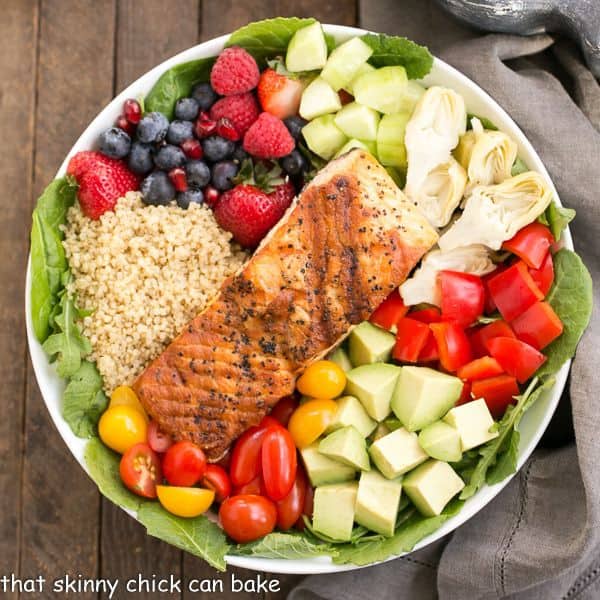 What are Superfoods?
Power Foods or Superfoods are those known to have a high nutrient value per serving.  Whether vitamins, minerals, protein or fiber, there is potentially some health benefit from any ingredient labeled as a superfood. This salad happens to contain a number of these powerhouse foods:
Kale, Spinach: A good source of folate, calcium, magnesium as well as high in Vitamin K (good for bone health), and iron. Kale has more antioxidants than most other produce and one of its phytonutrients may reduce the risk of certain cancers.
Avocados: high in monosaturated fats, helps with weight loss
Red Bell Peppers: rich in lutein, zeaxanthin, and vitamin C
Salmon: high in omega 3 fatty acids, helps with brain and heart health plus salmon may help prevent skin damage from ultraviolet light as well as reduce inflammation and cancer risks.
Tomatoes: source of lycopene, an antioxidant that helps protect your skin from sun damage and may also fight cancer and lower cholesterol
Berries: high in Vitamin C, fiber, cancer fighting antioxidants plus blueberries may help with memory and neutralize free radicals
Quinoa: a vegan source of protein, has ALL 9 essential amino acids
A Terrific Way to Kick off a Healthy New Year
This Superfoods Salad was customized with a variety of my favorite ingredients. Feel free to swap out any of the vegetables to reflect your preferences or just leave out what you don't like. Salmon is one of my favorite proteins so it beat out the chicken that was in my airport salad. I'm already brainstorming on how to tweak my next version. Maybe ditching the berries and roasting some of the veggies. The options are endless!