Eggs are such a versatile ingredient. I go through dozens each month to use in desserts, but they're just as fabulous in breakfast, brunch or even dinner recipes like this delectable Spinach Bell Pepper Frittata.
Spinach Bell Pepper Frittata
The hubby is out the door for work before 6 AM nearly every day. He'll often joke asking me whether I'm planning to have his bacon and eggs hot and ready by the time he's set for breakfast. Uh, no. But he does get lots of yummy blog leftovers. Like this Spinach Bell Pepper Frittata that I made for Brunch Week. As my fellow food bloggers know,  creating and photographing many dishes mid-day to take advantage of the natural light for photographs is ideal. So my lunch on this particular day was a terrific, veggie-packed egg dish. Bill spotted the leftover frittata in the fridge and was quite chuffed when I told him it was fair game for breakfast the next morning.
Brunch Week
Welcome to the second annual brunch week hosted by Terri of Love and Confections and Susan of The Girl In The Little Red Kitchen!  Join us May 5th through 11th while we celebrate the deliciousness of brunch and to prepare for Mother's Day and summer brunching season.  We have 32 bloggers bringing you their best brunch game, from cocktails to eggs benedict to donuts, there is something for everything this week.  Our amazing sponsors have donated some great prizes for a gigantic giveaway, please visit them all for more information.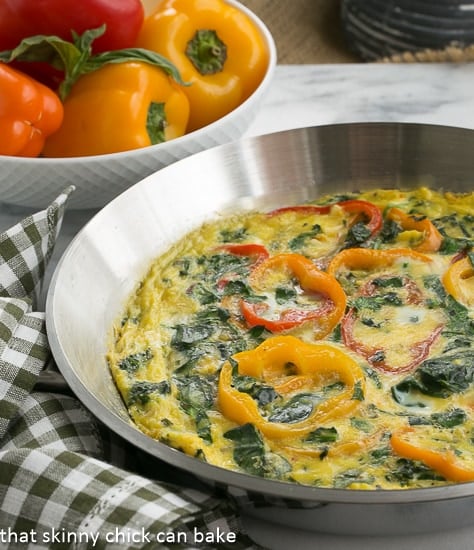 The Process
A frittata is a nearly effortless egg dish that you start on the stovetop and finish in the oven. I love adding aromatics, veggies and cheese. The options are limitless. For this frittata, I had a lovely stash of mini bell peppers from Baloian Farms, one of our sponsors, so I sliced up a couple along with a shallot and a couple cups of baby spinach. There were loads of options in my cheese drawer, but I selected some easy melting Muenster. A non-stick pan is ideal for this feat, but I managed just fine with my stainless steel saute pan. The veggies were cooked till tender, the eggs were added and cooked briefly before  the pan was popped in the oven till the frittata was puffed to perfection. Bill shared his gratitude for this terrific breakfast treat when he got home for dinner that night.

And here is a list of all the other magnificent brunch dishes shared by my friends today:
Brunch Beverages:


Brunch Egg Dishes:


Brunch Breads and Grains:


Brunch Fruits, Vegetables, Sides: 


Brunch Desserts: 
The Giveaway
All the giveaway information including prizes and how to enter can be found HERE. So many magnificent products up for grabs! Follow the Rafflecoptor for your chance to win. Good luck! A huge thank you to all our amazing #BrunchWeek sponsors. Please follow these lovely folks on their social media sites:
Bob's Red Mill – Facebook, Twitter, Pinterest, Instagram
Stemilt – Facebook, Twitter, Pinterest, blog
Baloian Farms – Facebook
Woot Froot – Facebook, Twitter, Pinterest
Vidalia Onion – Facebook, Twitter, Pinterest
Grimmway Farms – Facebook, Twitter, Instagram, Pinterest
OXO – Facebook, Twitter, Instagram, Pinterest (I used my OXO Flip & Fold Omelet Turner when making this fritatta)
Bonne Maman – Pinterest
Dixie Crystals – Facebook, Twitter, Instagram, Pinterest
California Walnuts – Facebook, Twitter, Pinterest, Google+
Whole Foods Market Orlando – Facebook, Twitter, Pinterest, Instagram
Disclosure: Baloian Farms supplied me with two packages of gorgeous mini bell peppers. OXO supplied me with some terrific breakfast making tools, a Flip and Fold Omelet Turner, a 3-in-1 Egg Separator and a Batter Dispenser.I was not compensated for writing this post and the opinions expressed herein are those of the author and are not indicative of the opinions or positions of Baloian Farms or OXO.