This is the recipe that turned me onto Pulled Pork. Tender and flavorful, it's the perfect sandwich filling.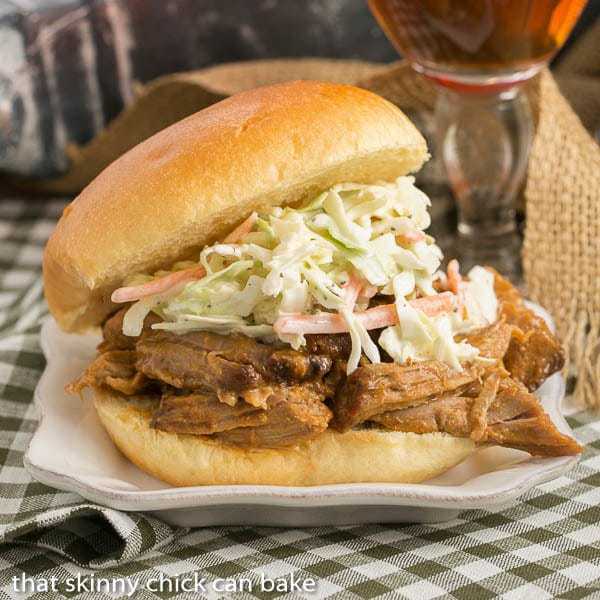 Why, oh why, did it take me so long to make pulled pork???? Maybe it's that I'm not a huge fan of BBQ sauce.  Maybe it's the icky Liquid Smoke called for in some recipes. But this recipe cinched it…I love pulled pork.  The aroma in the kitchen as this cooked for 6 hours was absolutely incredible…and it was hard not to nibble a whole meal's worth of pork while shredding it.
The accompanying cole slaw was decent…I added too much salt for my half batch, but it was fine with the sandwich.  Bill looked at me like I was crazy when I told him the coleslaw was to go on top of the pork. He wasn't having any of that, but he did eat it on the side. And there were no takers at all of the slaw from the picky offspring, though the boys enjoyed their pulled pork sans cabbage. Feel free to use your own favorite cole slaw recipe…next time I will try a lighter buttermilk dressing instead. I think this will become a new Memorial Day tradition…it's a perfect combination of textures and flavors!
Photo from 2012
Recipe adapted from Tyler Florence

Prep time:
Cook time:
Total time:
Serves: depends on size of pork shoulder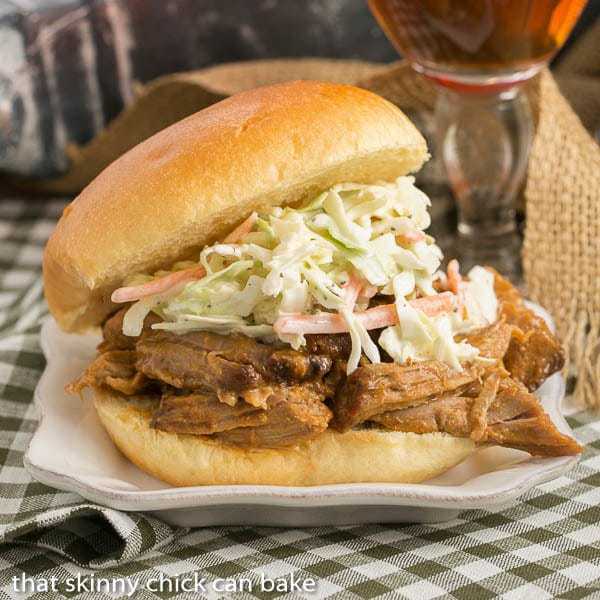 Perfect pulled pork adapted from Tyler Florence
Ingredients
Dry Rub:
3 tablespoons paprika
1 tablespoon garlic powder
1 tablespoon brown sugar
1 tablespoon dry mustard
3 tablespoons kosher salt
Pork shoulder roast (mine was 6 pounds)
Cider-Vinegar Barbecue Sauce:
1½ cups cider vinegar
1 cup yellow or brown mustard
½ cup ketchup
⅓ cup packed brown sugar
2 garlic cloves, smashed
1 teaspoon kosher salt
½-1 teaspoon cayenne
½ teaspoon freshly ground black pepper
Pan drippings from the pork, defatted (use fat separator, or skim fat from top of drippings)
Cole Slaw:
1 head green cabbage, shredded
2 carrots, grated
¼ of a red onion, thinly sliced
2 green onions, chopped
Sprinkle of cayenne
1½ cups mayonnaise
¼ cup Dijon mustard
1 tablespoon cider vinegar
1 lemon, juiced
Large pinch sugar
½ teaspoon celery seed
Kosher salt and freshly ground black pepper
Buns, for serving
Instructions
Mix together the rub ingredients then sprinkle and rub all over pork. Cover and refrigerate for at least 1 hour, or up to overnight.
Preheat the oven to 300º. Put the pork in a roasting pan and roast it for about 6 hours or until it's falling apart.
While the pork is roasting, make the barbecue sauce. Combine the vinegar, mustard, ketchup, brown sugar, garlic, salt, cayenne, and black pepper in a saucepan and simmer for 10 minutes until the sugar dissolves, stirring occasionally. Remove from burner and allow to cool to room temperature.
Make cole slaw by mixing the cabbage, carrots and onions in a large bowl. In another bowl, whisk together the mayonnaise, mustard, vinegar, lemon juice, celery seed and sugar. Pour the dressing over the cabbage mixture and toss. Season with salt, pepper and cayenne to taste. Chill at least 2 hours before serving.
When the pork is done, take it out of the oven and allow to rest for about 10 minutes. Pour about a half cup very hot water into the pan and whisk to bring up all the crusts and juices. Pour that into the saucepan with the sauce and cook 5 minutes.
While the pork is still warm, shred the meat using two forks (remove obvious fat). Put the shredded pork in a bowl and pour half of the sauce over. Stir it all up well so that the pork is coated with the sauce.
To serve, spoon the pulled pork mixture onto the bottom half of each hamburger bun, and top with some slaw. Serve the remaining sauce on the side.