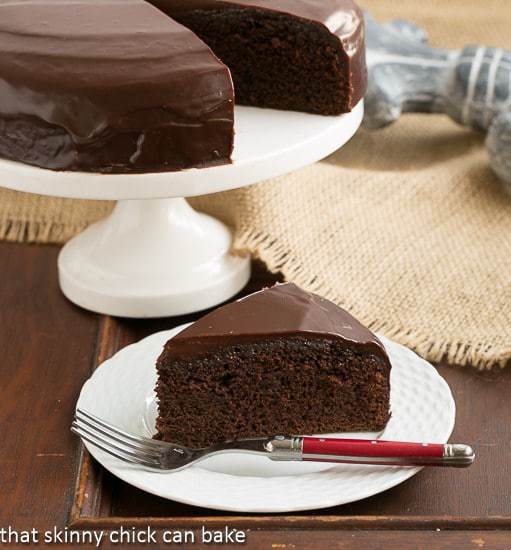 A chocolate cake is pretty much a given on December 27. That's the date of my oldest's birthday. It doesn't matter that we still had 3/4 a chocolate mousse torte in the fridge…we had to honor the kid who drew the short straw as far as birthdays are concerned. It's difficult when your special day is so close to Christmas…mom is tired of cooking, mom is tired of shopping. There may have been some IOU's this time around.  But I did make certain there was cake. This year, a One Layer Fudge Cake was selected for the celebration. When I showed him this photo on the Fine Cooking website, he quickly agreed with my choice. You cannot go wrong with an Alice Medrich recipe when it comes to chocolate desserts. But besides birthdays, this cake is perfect for Valentine's Day…or if you're celebrating with your favorite girlfirends, "Galentine's Day."



Dense and moist with a glossy coat of ganache, this One Layer Fudge Cake was so easy to put together. No worries of lining up layers, piping decorations or fiddling with leveling. Bake, cool and coat. It was as simple as that. And it was as superb in taste as it was a breeze in assembling. You'll definitely want to whip this one up for the chocoholic in your life. We sent the leftovers home with Tom…I'm certain he and his roommates finished it for breakfast. That's a birthday boy's prerogative.
A group of my blogger girlfriends are sharing some of their favorite recipes for a "Galentine's Day Party."  A big thanks to my lovely friend, Courtney, of NeighborFood, for gathering us gals together for this Valentine's Day bash. Be sure to check out all the delectable offerings:
Galentine's Day Drinks
Blood Orange Bourbon Fizz with Fried Sage from Lauren of Climbing Grier Mountain
Chocolate Dipped Strawberry Martini from Shanna of Pineapple and Coconut
Ladies' Night Rum Punch from Lindsay of The Live In Kitchen
Galentine's Day Brunch

Sweet Potato Cornmeal Waffles with Bourbon Cream and Pecan Butter from Susan of Girl in the Little Red Kitchen
Chocolate Dipped Donuts from Angie of Big Bear's Wife
Lemon and Ginger Scones from Lauren of Healthy. Delicious.
Beet, Blood Orange, and Chèvre Salad from Lori of Foxes Love Lemons
Galentine's Day Desserts
Piña Colada Cupcakes from Courtney of Neighborfood
Strawberry Chocolate Dessert Bars from Marly of Namely Marly
Banana Peanut Butter Cupcakes with Peanut Butter Chocolate Frosting from Nancy of Gotta Get Baked
One Layer Fudge Cake from Liz of That Skinny Chick Can Bake
Double Strawberry Angel Food Cake with Whipped Vanilla Creme Fraiche from Cynthia of Two Red Bowls
Dark Chocolate Pistachio Ice Cream with Candied Bacon Bits from Steph of Girl Versus Dough
Fruity Dessert Pizza from Morgan of Peaches Please
Secret-Ingredient Chocolate Pecan Bites (Gluten Free!) from Karen of The Food Charlatan
DIY Cheesecake Parfait Bar from Heather of Heather's Dish