This dreamy Margarita Cheesecake has all the splendid flavors of the classic Margarita cocktail! A perfect, refreshing dessert on a hot summer's eve!
Our Virtual Progressive Dinner is going Tex-Mex!
Just the thought of Key lime pie, slushy margaritas and Margarita cheesecake make my mouth water. Tart citrus balanced with enough sugar to take away the pucker make all three treats tops in my book. For this cheesecake, the usual cream cheese, sour cream, eggs and sugar are flavored with lime juice, lime zest plus Grand Marnier and tequila. Enough for a little zip…plus, if you didn't realize, alcohol is a flavor enhancer. Just like salt. So all the additions play a role in making one sweet, tangy and limey dessert. Perfect for our Tex-Mex party today.


Softer and creamier than my typical cheesecake, I swooned with every cool, luscious bite. I started with a sliver, then went back for another sliver, then another. I should have started with a standard slice…I'm sure I ate my fair share plus some extra! I must have needed some vitamin C. Yeah, that's my story.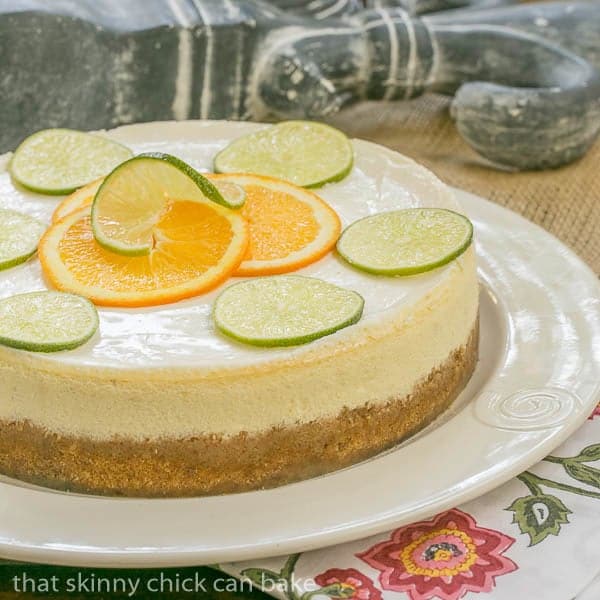 Tex-Mex Dinner Menu:
Appetizer
Salad
Soups
Main Course
Bread
Sides/Veggies
Beverage
Desserts
Welcome to another edition of Progressive Eats, our virtual version of a progressive dinner party. If you're unfamiliar with the concept, a progressive dinner involves going from house to house, enjoying a different course at each location. With Progressive Eats, a theme is chosen each month, members share recipes suitable for a delicious meal or party, and you can hop from blog to blog to check them out.
We have a core group of 12 bloggers, but we will always need substitutes and if there is enough interest would consider additional groups. To see our upcoming themes and how you can participate, please check out the schedule at Creative Culinary or contact Barb for more information.
This month's theme is Tex-Mex hosted by Milisa of Miss in the Kitchen.