Do you love Reese's Peanut Butter Cups?  Then these Homemade Reese's Bars will make you swoon!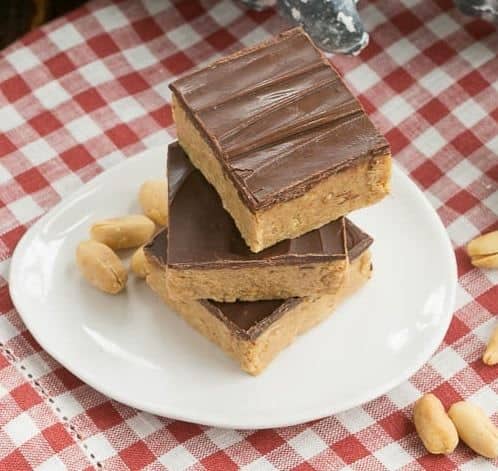 Chocolate Peanut Butter Love
Do you adore the chocolate peanut butter combination? Are you a Reese's fan? Two out of three of my children must have pb cups in their stockings and Easter baskets (yes, I still buy my grown kids holiday treats!). And though I've only eaten one courtesy bite of a peanut butter sandwich at age 6 (I was not a fan), I cannot resist peanut butter sweets. Well neither can Danielle, my foodie friend who writes the blog Hugs and Cookies XOXO. She has adapted my version of these bars (as well as using other sources) to make them even more divine. Doubling the filling was genius! So for this month's Two Sweetie Pies, I had to whip up her new and improved recipe for these Homemade Reese's Bars.

Sharing for the Holidays
I cut up these easy to make, irresistible bars and took them to two events. I was not surprised that these were the first to fly off my goodie trays. There's something about Reese's fans–they cannot get enough of this sublime combination. And the bonus is that these Homemade Reese's Bars are no bake. Just mix butter, graham cracker crumbs, powdered sugar and peanut butter and pat into a pan. Then top with a simple mixture of melted chocolate and a touch of oil. That's it! There's no excuse not to make these for the Reese's lovers in your life! Thanks, Danielle, for another marvelous recipe!!!
On the second Monday of each month, Danielle and I cook up something from each other's blog. Every treat I pull from her blog is a show stopper…I never have to worry whether we'll like it or not. We always do!
Check out Danielle's social media sites!