There's nothing more festive than a cookie dressed up in red and green! These buttery Holiday Pinwheel Cookies are a fun, yummy Christmas cookie to add to your baking list!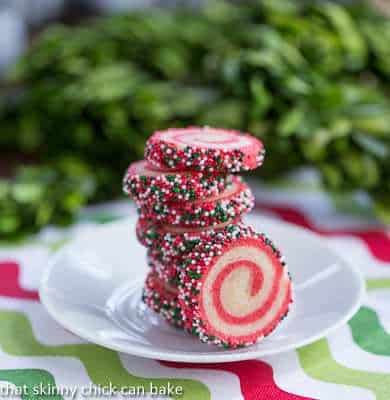 I saw loads of perfect pinwheel cookies on Pinterest last year. Red and green layers in gorgeous spirals…so festive. As Christmas grew near, I knew I wanted to tackle this recipe. I turned to dessert guru, Gale Gand, and tweaked her vanilla and chocolate pinwheels into a holiday version. Pretty nice, eh? And the cool part is that you can store rolls of these in your freezer to slice and bake as the need arises. Welcome to Christmas Week, a multi-blogger event co-hosted by Kim of Cravings of a Lunatic and Jen from Juanita's Cocina! Each day we will be celebrating the holidays with a different set of Christmas-themed treats, as well as a fabulous Christmas giveaway. We hope you enjoy this fabulous event. Tune in each day starting today, Monday, December 9th and ending Saturday, December 14th.
I only made half of Gale's recipe…and fudged on the size of my layers to make it work…my goal was to keep both layers about 1/8 inch thick. The math was making my head spin trying to adapt the measurements. If you follow the instructions in the recipe, you may end up with more spirals in your dough (a good thing!)…the goal is to keep both the red and plain doughs at about the same thickness. I trimmed my layers using a ruler to make them exactly the same size. Keeping the dough cold is imperative.  It will slice better and won't squish into oblong shapes instead of nice circles. And if your log has a flat side due to its resting time in the fridge, just re-roll it into a perfect cylinder before slicing.
Tip of the Day: Rolls of this frozen cookie dough would make great holiday gifts. Just wrap the frozen logs in parchment paper, twist the ends and secure with festive ribbons. Attach baking instructions on a coordinating tag and you're set.
Visit all the other Christmas Week Peeps for more Holiday Baking Goodness: