Enchiladas Suizas or Chicken Enchiladas with a creamy tomatillo sauce is an authentic, tasty Mexican dish with a "Swiss" twist!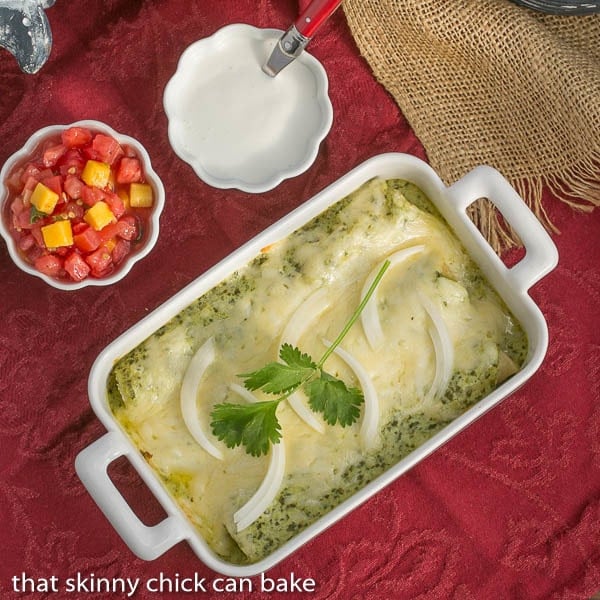 Enchiladas Suizas
The addition of cream and cheese contributed to the Suizas or Swiss reference in the name of these enchiladas. The only green sauce I've cooked with came from a can, so I was eager to try to make my own. I added only one serrano chile so as not to disturb my hubby's sensitive palate and followed the recipe as directed. A swipe of my finger across my mixing spoon reassured me that this sauce and then, therefore, these enchiladas were going to be quite delicious!
Enchiladas: Aztec to Tex-Mex by Cappy Lawton and Chris Waters
I was given the opportunity to cook from this just released cookbook, Enchiladas: Aztec to Tex Mex, and zeroed in on the chicken enchiladas to make for my family. Most of the Mexican food that comes out of my kitchen is far from authentic, but this recipe looked quite approachable. In fact, the most difficult part was tracking down the cheeses! The sauce was exquisite and was lovely with the chicken and melty cheese.  Nick was home from college and gave this dish his approval as well. The picky guy I married would have preferred these with flour tortillas–guess corn tortillas were too exotic for him??? If I'd tweak this recipe to make the hubby happy, I'd also add a little of the yummy sauce and cheese to the filling to make these gooey on the inside as well as the outside. If you're tired of the same ol' enchiladas, I know you'd love this cookbook!
Buy your copy of this terrific cookbook, Enchiladas: Aztec to Tex Mex, from Amazon so you can make these Enchiladas Suiza and more.