These moist and tender Coconut Cupcakes will thrill your palate with your first nibble. The decadent mound of cream cheese frosting guarantees that these will be unforgettable!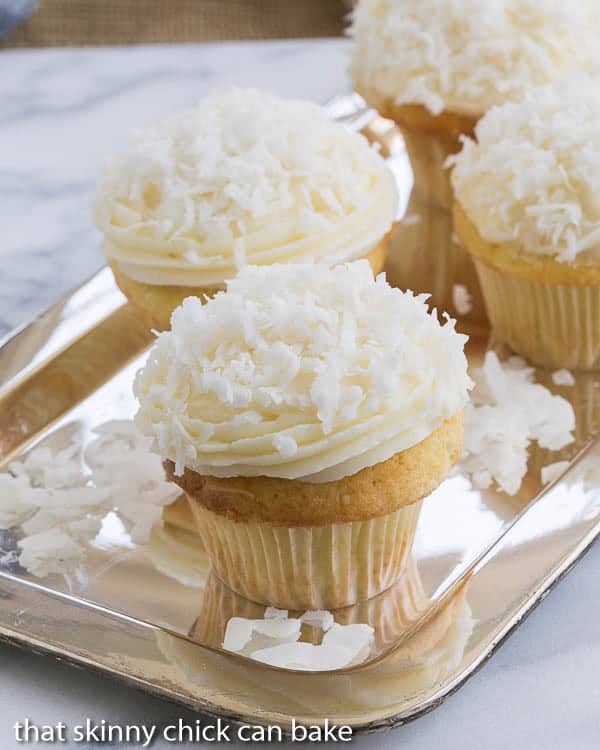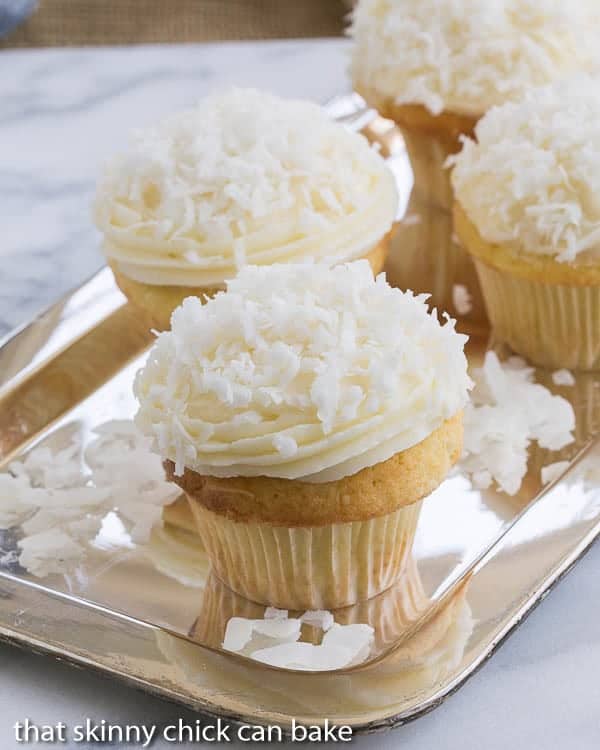 Coconut Cupcakes
My mother had an immense influence as far as my palate is concerned. I was the oldest of  four daughters. A rule follower. She'd eat sardines, I'd eat sardines. She'd eat chicken hearts, I'd eat chicken hearts. She'd eat liver, er…I'd, uh, taste liver. When I was a wee first grader, Mrs. McGinnis asked our moms to send in two favorite recipes which she used to compile a cookbook. One of my mom's contributions was Mounds Bars; and, to this day, I treasure the stained mimeographed pages with our block print signatures. I think I could have eaten my weight in those rich, coconut gems back in the day. Maybe even now. So when our Holiday Food Party group decided to cook up some Mother's Day dishes to share with you all, I knew it had to be something coconut. Coconut Cupcakes with Cream Cheese Frosting to be exact!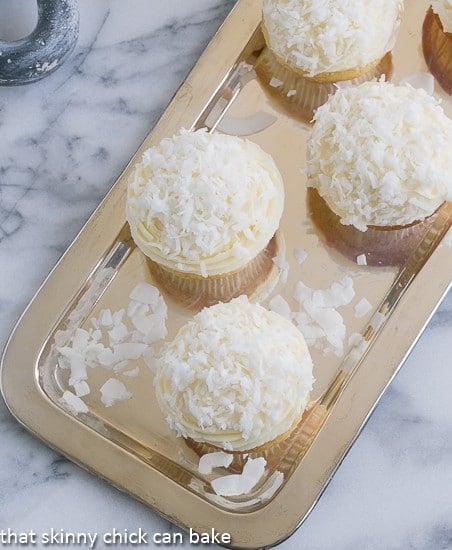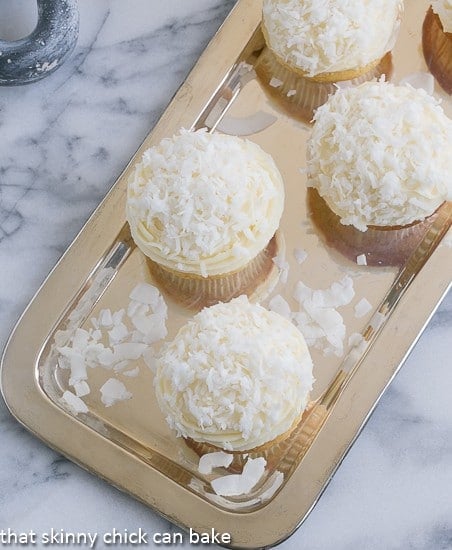 Ina Garten Strikes Gold!
This recipe was one of the first I made from Ina Garten's original Barefoot Contessa cookbook. Way back in 1999. Before many of my food blogger friends were even out of first grade. Before the Barefoot Contessa had her own Food Network TV show. When dinosaurs still roamed the land. Well, maybe that's just me showing my age. There must be something in the double X chromosomes as none of the guy folks in the family are as gung-ho about coconut as Katie and I. We were happy to hoard these babies…in honor of Mother's Day. And now for some more recipes from some of my very favorite food bloggers so you can treat the wonderful mothers in your life to some deliciousness.
Holiday Food Blog Party
Check out all the marvelous recipes to celebrate Mother's Day below. There's something for everyone!!!

1. Coconut Cupcakes from That Skinny Chick Can Bake
2. German Apple Cake from Magnolia Days
3. Baked Lemon Pasta with Broccoli and Shrimp from What Smells So Good
4. Cinnamon Pear Cake from Roxana's Home Baking
5. Strawberry Whiskey Sour from Girl in the Little Red Kitchen
6. Huevos Rancheros from Crumb Blog
7. Triple Lemon Cake from Created by Diane
8. Banana Chocolate Chip Bread from Chocolate Moosey
9. Lemon Thyme Shortbread from Jen's Favorite Cookies
10. Pineapple Coconut Sweet Rolls from Pineapple and Coconut
11. Caramilk Stuffed No-Knead Brioche from Gotta Get Baked
12. Mom's World Famous Sponge Cake from Hungry Couple NYC
13. Brown Butter Pecan Fudge Ripple No-Churn Ice Cream from Cupcakes and Kale Chips