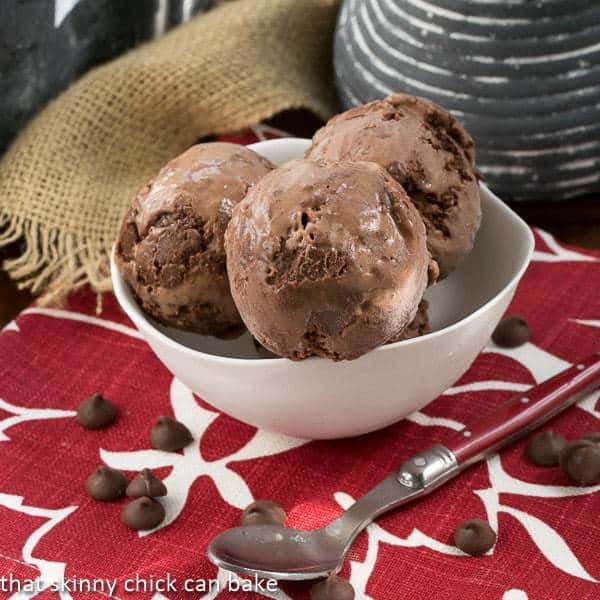 Heavenly Chocolate Truffle Ice Cream
It has been hot as blazes in Indianapolis…with August like heat and humidity. Well there was one perk to our sultry forecast, ice cream season had arrived. I was lucky enough to be given a copy of Scoop Adventures, The Best Ice Cream of the 50 States by Lindsay Clendaniel. She collected the best recipes from ice cream parlors across the country and shared them along with a number of her own delectable creations. I spied this extraordinary chocolate truffle ice cream on Lindsay's blog and knew it was perfect for my chocoholic family.
A Proven Winner
I hate to admit it, but I've always been more of a vanilla girl. But I did have to sample just a nibble of this sinfully rich ice cream. I was immediately sold by its double dose of chocolate decadence…with both Lindsay's homemade chocolate liquor and the luscious truffles. Velvety smooth with chunks of chocolate interspersed throughout the ice cream, even this plain Jane vanilla girl thought it was dreamy. When my oldest stopped by for Sunday dinner, I offered him samples of the three desserts taking residence in my kitchen. He hemmed and hawed over which was his favorite, but this ice cream proved to be the winner. I was not a bit surprised.
I'm joining up with the Ice Cream Tuesday gang this week to share more decadent ice cream recipes from Lindsay's blog and cookbook. I'm also giving away a copy of Scoop Adventures to one lucky reader. Check out all the phenomenal ice cream recipes plus make certain to scroll down and enter the giveaway.
P.S. All my friends will be offering this giveaway, too, so visit them to increase your chances of winning!
Recipe first shared by Lindsay on Scoop Adventures.
To win a copy of this magnificent cookbook, follow the Rafflecoptor prompts below. You must answer the question about your favorite ice cream to be officially entered. This giveaway for those with a US address only. Winner will have 48 hours to respond to my email before another winner is drawn. Good luck!!!
a Rafflecopter giveaway

Disclosure: I was sent a copy of Scoop Adventures to review.  I was not compensated for writing this post and the opinions expressed are my own.