This moist and cinnamon spiced Apple Bread got me through my mid-Lent craving for apple pie. It makes a lovely tea time treat!
Apple Bread
I love making quick breads. They're smaller than cakes and faster than yeast breads, yet still result in slices of a sweet deliciousness that can be served for breakfast or dessert. I gave up desserts for Lent and was truly hankering for something sweet. Fruit just wasn't cutting it! I knew an apple loaf would be perfect. I took a few slices to my knitting friends and went home with just crumbs. One Granny Smith apple and one golden delicious was the perfect combination. The pairing of tart and sweet, firm and soft apples always works well.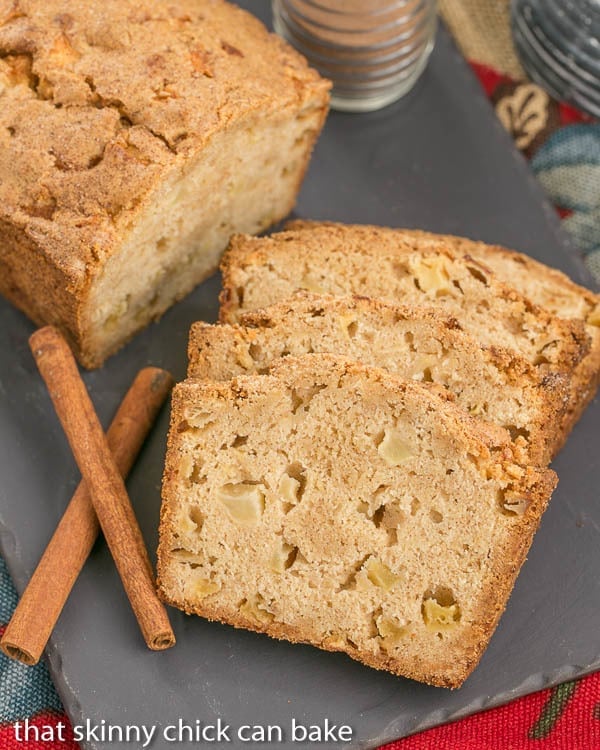 Quick Bread Tips
I've made a ton of quick breads over the past few decades. Here are a few lessons I've learned:
Once you add the dry ingredients (mainly the baking soda or baking powder), you do not want to overmix. Stir only till mixture is combined or you will get a tougher loaf with tunnels. The same goes when making muffins.
Start checking about 15 minutes before your bread is due to be done by inserting a toothpick in the center of the loaf. It should be nearly clean when pulled out. All ovens are different, so don't feel obliged to pull out your loaf when the timer goes off. Make sure to do the toothpick test.
If your loaf starts getting too brown, put a tent of aluminum foil over the top.
Make sure your baking soda and baking powder have not expired. Old leaveners could result in a flat,  too dense  result.
To ensure easy release of the loaf, line the bottom of the pan with a rectangle of parchment paper after greasing. Grease the top of the parchment, too.
I use Baker's Joy, a mixture of oil and flour in a spray can, to grease my pans. If you just have a baking spray, that will work, too.
Quick breads are often better the next day. Once your loaf has cooled, you can wrap it well in plastic and refrigerate overnight. But if you can't wait, dive right in!
Apple Bread
A moist, delectable cinnamon topped apple bread!
Recipe type:
Bread, Quick Bread
Ingredients
2 eggs
1 cup sugar
½ cup brown sugar
½ cup vegetable oil
2 teaspoons vanilla
2 cups apples, peeled, cored and diced (I used one Granny Smith and one golden delicious)
2 cups flour
1 teaspoon salt
1 teaspoon baking powder
1 teaspoons cinnamon
Cinnamon sugar to top loaf, optional
Instructions
Preheat oven to 350º. Grease a large loaf pan, then place a rectangle of parchment on bottom of pan and grease the top. Set aside.
Beat eggs, sugar, oil and vanilla till well blended. Stir in apples.
In a separate bowl, whisk together flour, salt, baking powder and cinnamon. Then add to apple batter and mix only till combined. The batter will be thick.
Scrape batter into prepared pan.
Bake for 1 hour 15 minutes to 1 hour 30 minutes or until a toothpick inserted in the center comes out clean. Check loaf after an hour, and tent with foil if browning too quickly.
Cool loaf in pan for 10 minutes, then remove to a wire rack to finish cooling. Remove parchment paper if it adheres to the bread.
When fully cooled, wrap in plastic wrap to store. May be frozen up to 3 months.
Notes
My loaf pan was 9 x 5 inches. If yours is larger, you may need to adjust your baking times.