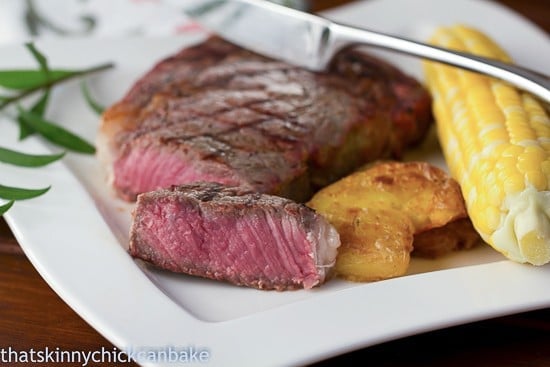 My friend, Nava, who lives in Malaysia, does not eat beef. But she wanted to include at least one beef recipe on her blog for her fans. I was delighted when she asked me to whip up a meaty entree to share with her followers…as a good steak or beef roast always makes my family happy. I splurged on some dry-aged rib eye steaks from a local butcher shop for Nick's last dinner before leaving for college. Please head over to her blog, Nava-K, to see my tips on how to grill the perfect rib eye steaks.
Buy the best beef you can afford. Good marbling (fat distribution) makes for a tender, juicy steak. A lean steak won't be as flavorful either.
The cut of steak is important, too. My husband prefers rib eyes and New York strips. Although I love a great filet, the leanness of this cut is not ideal for grilling…but wrapping in bacon and a light coating of olive oil adds some needed fat.
Season early…the first salting is up to 3 hours before grilling, then again right before cooking.
Bring your steaks out of the fridge about 1/2 hour before grilling so they don't go on the grill cold. This allows for more even cooking
Use charcoal if available…and make a hot fire. The smokiness from the charcoal adds wonderful flavoring
Move only 2-4 times during the cooking process….twice if just flipping but twice a side to make cross hatch marks.
Allow to rest at least 5 minutes before serving.
Tip of the day: Bringing beef to room temperature before grilling prevents the surface from drying out or burning before the inside is cooked to the desired temperature. Just 30 minutes sitting on the counter will do the trick.


Perfect Rib Eye Steaks
Ingredients
One 1 1/2 inch thick rib eye steak per person, prime or the best quality you can afford
Kosher salt
Freshly ground black pepper
2 garlic cloves, cut in half
Instructions
A couple hours before grilling, pat steaks dry with a paper towel. Sprinkle each side with a scant 1/2 teaspoon of kosher salt and return to the refrigerator, uncovered.
Bring steaks out to sit at room temperature one hour prior to grilling. Rub each with garlic half and re-season with salt and pepper. Grill over hot coals (or set gas grill to high heat) with the lid open for about 3-4 minutes per side for rare. If you want the classic cross hatch sear marks, turn the steak 45º (one 1/8 turn) at 1 1/2-2 minute mark, then grill for a couple more minutes before flipping. Repeat on other side and grill for 3-4 minutes total. Use instant read thermometer to check internal temperature: remove at 120º for rare and 125º for medium rare. There will be carry over cooking and temperature will rise during resting period.
Let rest 5 minutes before serving.

Yield: varies depending on number of steaks

Total time: 3 hours, 15 minutes including seasoning and bringing to room temperature times
http://www.thatskinnychickcanbake.com/2012/08/perfect-rib-eye-steaks-guest-post.html
Shared with: